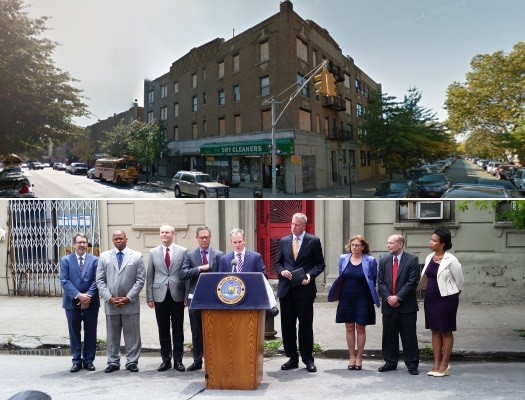 Daniel Melamed, owner of 1578 Union St. in Crown Heights, was arrested this morning for performing construction work on his building in a way that was deemed to be harassment of the building's rent-protected tenants. He is the first person to be criminally charged in the city's recently-launched campaign against wayward landlords.
A Brooklyn landlord on Wednesday has become the first person arrested under a new city-state campaign to go after property owners who threaten and harass rent-stabilized tenants, sources told the Daily News.
Daniel Melamed, 39, was indicted on charges of unlawful eviction, child endangerment and filing false documents in harassment of rent-protected tenants at the Crown Heights building he owns.
Melamed's arrest was to be announced at a 1 p.m. press conference with Mayor de Blasio and state Attorney General Eric Schneiderman.
The mayor and Schneiderman formed a task force to go after landlords who illegally force out rent-stabilized tenants so they can jack up the rent.
Schneiderman, who will prosecute the case in Brooklyn courts, said Melamed "presided over a disturbing pattern of dangerous and unlawful construction that jeopardized the health and safety of building tenants and forced at least one rent-regulated tenant to move out."
Click here to continue reading
Photos by Benjamin Lifshitz