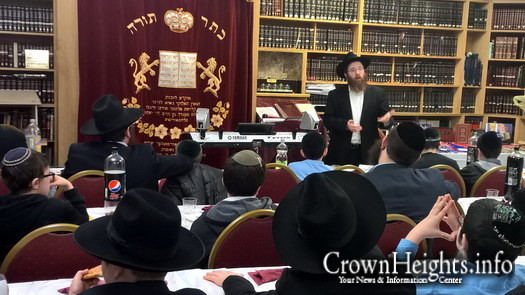 Over the past 15 weeks, the Avos U'Bonim of Anash in Manchester (UK) have been sitting down to learn together every Motzoei Shabbos. With the winter session coming to a close, prizes were given out to celebrate attendance.
The Beis Menachem branch, one of the 14 branches in Manchester of the Worldwide Avos U'Bonim programme is run by the very dedicated Rabbi Yoel Niasoff. As the winter season came to a close, a Prize Giving was held on Sunday afternoon to celebrate the end of the season of Avos U'Bonim.
A Dvar Torah was given by Yaakov Yosef Heidingsfeld. Rabbi Mendel Cohen, the Principal of the OYY Lubavitch Boys School and Rov of Beis Menachem, spoke to the Avos U'Bonim.
Pizza and Chips were served and musical entertainment was provided by Chananya Niasoff.
On behalf of the Avos U'Bonim, R' Dovid Pink thanked Rabbi Yoel Niasoff for his dedication and time not just in looking after the program but for organizing the Prize Giving as well. He presented him with a set of the new print of the Alter Rebbe's Shulchan Oruch.
As a prize for attending the program the boys were presented with various prizes, depending on the number of sessions they attended.
The grand raffle for seforim and book tokens was held and the evening ended with benching and dancing. ​​Rabbi Niasoff thanked those who had helped out especially the sponsors of the prizes and the food for the Prize-giving.