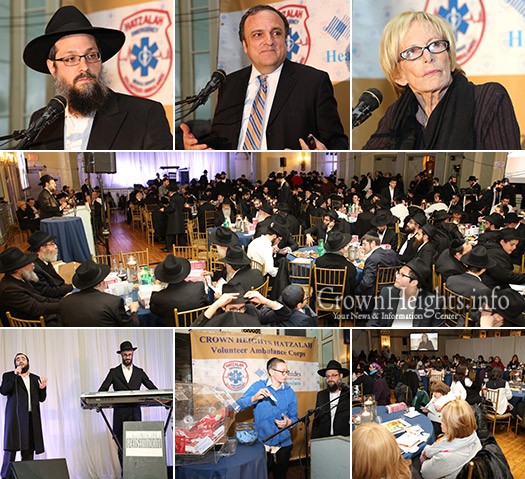 Hatzalah Hosts Maimonides for Annual Melava Malka and Health Symposium
Hundreds of men and women turned out this Motzai Shabbos for Crown Heights Hatzalah's annual Melava Malka, health symposium and raffle for $18,000.
Opening the evening was Hatzalah coordinator Yossi Friedman who began with an appropriate Dvar Torah about the role of doctors and medicine. The crowd then heard greetings from the president and CEO of Maimonides Medical Center Mrs. Pamela S. Brier, she spoke of the virtues of her hospital and how it was rated the safest place for mothers to give birth.
The evening featured a special guest speaker, Dr. Edward K. Chapnik, the director of infectious diseases and department of medicine at Maimonides, who spoke about the history of vaccines and how important they are.
The Melava Malka featured a delicious spread of dairy and parev food catered by Benny Turk of Turk Cateres, a wine bar by Yudi and Mendy Eber of Eber's Wines and Liquors and a sushi bar by Sushi Spot. Live music by Fitche Ben Shimon and a special performance by Boruch Sholom Blesofsky rounded off the evening
The highlight of the night was the raffle drawing for the grand prize of $18,000. The lucky winner was Stuart Charter.
All attendees received door prizes consisting of a first aid kit, a kitchen fire extinguisher and a tzedakkah pushka.