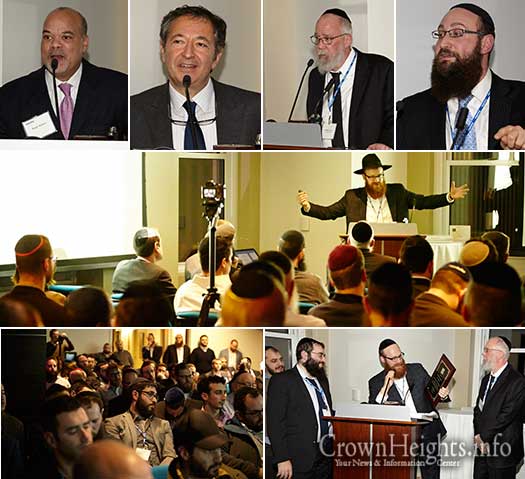 On Monday night, some 120 guests gathered at Deloitte & Touche LLP's headquarters located at one of New York City's leading landmarks, 30 Rockefeller Center, for a unique celebration. The high caliber networking event acknowledged the achievements of Crown Heights Young Entrepreneurs and gave tribute to the organization's Founders Circle.
The Art Deco facades of Rockefeller Center, one of the most prestigious buildings in the city provided a spectacular venue where honored guests mingled over sushi and enjoyed the vistas of the Big Apple.
Founded in 2012, CHYE is dedicated to encouraging entrepreneurial excellence in the Crown Heights Community.
Addressing the crowd, Rabbi Yehoshua Werde, CHYE's Founding Director, explained the founding principles upon which CHYE was based. "Before the Baal Shem Tov revealed himself, his main service was in helping his fellow Jews
with physical matters, with parnasa," Rabbi Werde said.
Palpable in the room was the sense of the tremendous growth CHYE has experienced in the brief two years since its founding – and the uncharted territory it continues to rapidly explore.
"I've been active with CHYE as a mentor for some time now," said Michoel Ogince, Founding & Managing Partner at Windforce Ventures, "but this is the first CHYE event I've ever attended. Its vision for the future has impressed me greatly."
Following the networking, participants were addressed by Howard Jonas, CEO of IDT, and George Rohr, Partner at NCH Capital.
Sharing his firm belief in the importance of strong business ethics and based on his own entrepreneurial experience, Jonas told the crowd, "In business there will be ups and downs. The trick isn't how well you climb, its how you pick yourself up after you fall."
Rohr shared how impressed he was with "this incredible enterprise's" growth in such a "compressed time frame."
"The [Crown Heights] community is growing in its dynamism, through the growth of its shluchim," Rohr said. "But that growth must come from a healthy base, not just with support from the outside, but from within as well."
"What you do as business people," Rohr told the crowd to deafening applause, "is no less holy and is a part of that work [of Shlichus]. Don't think what you do is a plan 'B', it's a plan 'A.'"
Rohr encouraged those who can help to be stakeholders in establishing sustainability in our educational system. "Children in Chabad have it in their DNA, they're programmed to support the work of Shluchim. They need to be empowered with the tools to be able to accomplish this."
The Creative New Business award was given to Dan Dashevsky and Yehuda Vernik of MyCloudGrocer, which brings supermarkets online by providing a fully managed, worry-free integrated solution connecting consumers, grocery retailers, and Consumer Packaged Goods brands.
Other awards were given to the founding board members of CHYE.
Before the formal agenda section of the event concluded, event host Yosef Levine of Deloitte and Touche and CHYE Founders circle member left an energizing message for the crowd. Sharing a personal encounter he had with the Rebbe, Levine explained how that encounter guides him to this day in his business endeavors. "I wanted to attend Lubavitch Yeshiva on Ocean Parkway as a teenager," Levine said. When he found out that the teachers were on strike, the young Levine wrote to the Rebbe.
The Rebbe's response through his secretariat surprised Levine. "The Rebbe told me that I should go to Yeshiva University for mesivta, and not to Lubavitch Yeshiva," Levine said. "In life we plan, we desire, but the Rebbe leads us and it's our job in all of our endeavors to recognize who we are as chassidim and what our true mission is."
CHYE is thankful to its sponsors Deloitte & Touche LLP, Signature Bank and Flyingconnected.com for making this evening possible.
To learn about exciting new CHYE events: http://chye.info