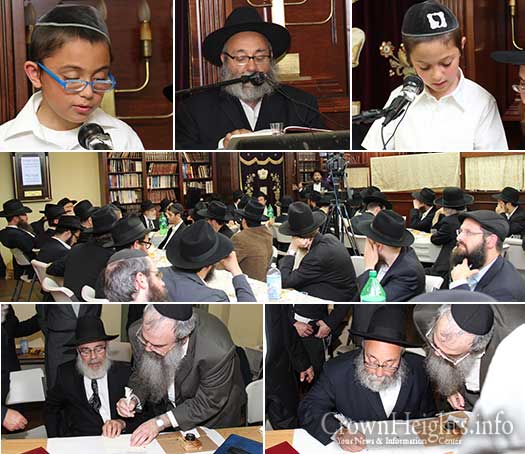 Family Marks First Yahrtzeit of Zevi Silver, OBM
Family and friends gathered last Thursday night at Getzel's Shul in Crown Heights to mark the first Yahrtzeit of Rabbi Zevi Silver, OBM, a beloved husband, father of four young children and Shliach to Mequon, Wisconsin, who tragically passed away one year ago at the age of 31.
The event celebrated the beginning of a new Sefer Torah in Zevi's memory, as well as a Siyum on the entire Shas – which was divided among the family members and learned over the previous year.
The event was emceed by Rabbi Shmaya Galperin, Zevi's brother-in-law and Shliach to Holmdel, NJ. He introduced Rabbi Moshe Rapaport, Shliach to Mequon, WI, who addressed the gathering and described the dedication with which Zevi fulfilled his Shlichus.
"Even when he was severely ill, and the doctors had already given up hope r"l, Zevi did not wallow in sorrow, but used every opportunity he had to help others, both physically and especially spiritually," he said.
Rabbi Rapaport described an incident where a doctor in the hospital, after having given Zevi some particularly bad news about his condition, asked him if there was anything he could do to make him more comfortable. At first Zevi said no; everything was fine. Then Zevi turned to the Jewish doctor and said "yes, there is one thing you could do: put on Tefillin." The doctor readily obliged.
"There are still doctors in that hospital who, until this very day, put on Tefilin daily because of him," said Rabbi Rapaport. "They just couldn't say no to Zevi."
Dr. Dovid Maiman, Zevi's father-in-law, then addressed the gathering and spoke of the unique contribution Zevi made to the small Jewish community of Mequon, the impact he made on everyone he met, and how things are not the same without his presence.
The Rebbe's and Zevi's Tehillim chapters were recited by his two young sons, Mendy and Sruly Silver.
The highlight of the event was a Siyum on the entire Shas, which was learned by Zevi's family members over the course of the year. It was performed by Zevi's father, Rabbi Avrohom Silver.
The siyum was followed by the commencement of the writing of a new Sefer Torah in Zevi's memory, which will be completed in time for his second Yahrtzeit, G-d willing.