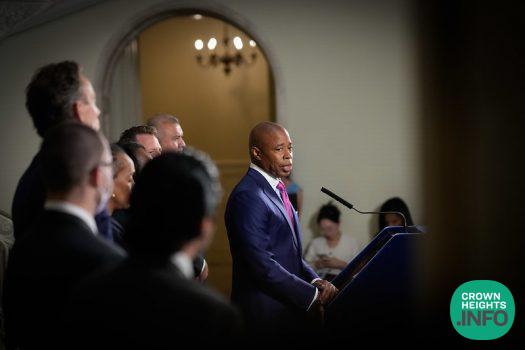 Mayor Adams Steps Up Care For The Mentally Unwell, Clarifies Law Mandating Care For Those Unable To Care For Their Basic Needs
New York City Mayor Eric Adams today announced a new pathway forward to address the ongoing crisis of individuals experiencing severe mental illnesses left untreated and unsheltered in New York City's streets and subways.
In a public address, Mayor Adams detailed a compassionate new vision to tackle this crisis, beginning with a directive being issued immediately to city agencies and contractors involved in evaluating and providing care to individuals in psychiatric crisis so that more people in need of help receive it. Mayor Adams also laid out an 11-point legislative agenda that will be among his top priorities in Albany during the upcoming legislative session. The agenda takes aim at gaps in New York State's Mental Hygiene Law that intensify the city's challenges in meeting the needs of its most vulnerable residents with severe mental illness. Finally, Mayor Adams announced new clinical co-response teams deployed in New York City's subways to respond to those with serious mental health issues, as well as an enhanced training in partnership with New York State for all first responders to compassionately care for those in crisis.
In accordance with state law and court precedent, Mayor Adams' directive clarifies that outreach workers, city-operated hospitals, and first responders have the legal authority to provide care to New Yorkers when severe mental illness prevents them from meeting their own basic human needs to the extent that they are a danger to themselves. The directive — issued by Mayor Adams today — seeks to dispel a persistent myth that the legal standard for involuntary intervention requires an "overt act" demonstrating that the person is violent, suicidal, or engaging in outrageously dangerous behavior likely to result in imminent harm.
Mayor Adams also announced today that the city is developing a tele-consult line to provide police officers in the field with direct access to clinicians. This new tele-consult line will provide critical clinical advice to police officers when dealing with individuals in distress and ensure a compassionate response for those suffering with untreated serious mental illness.
Measures in Mayor Adams' legislative agenda announced today include:
Making the law explicit that a person requires care when their mental illness prevents them from meeting their own basic needs;
Mandating that hospital clinicians consider a range of factors when assessing a patient's need for involuntary admission or retention, including known treatment history and current ability to adhere to outpatient treatment;
Requiring hospitals to screen all psychiatric patients prior to discharge for their need to receive "assisted outpatient treatment" (court-ordered care under "Kendra's Law");
Allowing a broader range of trained mental health professionals to perform evaluations and community removals of individuals in crisis; and
Requiring hospitals to notify known community providers when their clients are admitted or released and collaborate with community providers in preparing patients for discharge.
Ahead of the winter months — when homelessness typically increases on subways due to the cold weather — the Adams administration has begun deploying subway clinical co-response teams, made up of joint patrols of the New York City Department of Health and Mental Hygiene (DOHMH) and the New York City Police Department (NYPD), to patrol high-traffic subway stations and respond with a clinician-led approach to those appearing to have serious mental health issues.
Finally, in partnership with New York State, the city will also provide comprehensive training to all clinicians, outreach workers, and first responders to ensure compassionate care that potentially could include involuntary removals when interacting with individuals in distress suffering from severe mental illnesses. The city will be rolling out this training immediately.