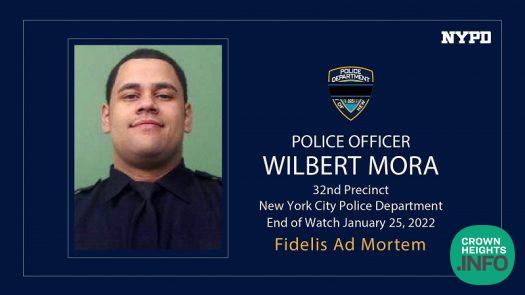 Second NYPD Officer Dies From Harlem Shooting
by CrownHeights.info
Police Officer Wilbert Mora, the 27-year-old police officer who was fighting for his life after being shot while responding to a 911 call in Harlem has succumbed to his injuries.
"Today, we mourn the loss of Police Officer Wilbert Mora. At 27-years-old, he was murdered in the line of duty — fighting until the very end," the NYPD wrote in a statement. "We vow to #neverforget Wilbert and will always honor his legacy of service and ultimate sacrifice."
Officer Jason Rivera, 22, was the first officer to die in the shooting, and was pronounced dead soon after the incident.
According to the NYPD, the officers and a rookie cop responded to an emergency call for verbal domestic violence with a mother and son fighting.
The mother had called the police for help and met the responding officers in the front of the apartment on 135th Street.
As the officers went into the rear room to speak with the man, they were fired on. Rivera, who was the first in the hallway, was struck first, with Mora ducking into the kitchen.
The shooter, believed to be the 47-year-old son Lashawn McNeil, was shot by the rookie officer who had stayed with the mother in the front of the apartment. The suspect was shot in the neck and shoulder, according to the police.
New York Attorney General Letitia James released the following statement in response to Mora's passing.
"I join all of New York today in mourning the heartbreaking death of Officer Wilbert Mora. He was a hero until the end. Officer Mora and his partner, Officer Jason Rivera, showed courage in the face of imminent danger to protect New Yorkers. Their bravery exemplified their commitment to protecting the city they loved. Both will forever be remembered as heroes who dedicated their lives to making New York safer and stronger. I pray for strength and ease for their families and loved ones."