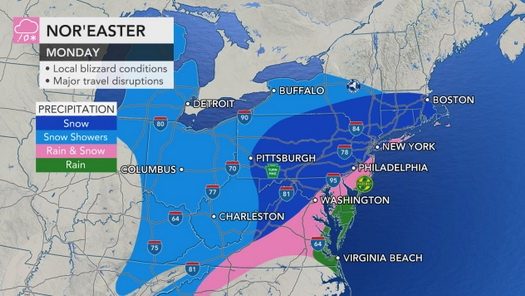 For days now, AccuWeather meteorologists have been warning about the potential for a major snowstorm to strike the mid-Atlantic and Northeast. On Saturday morning, the AccuWeather forecast team was developing a clearer picture of what could unfold across cities like Washington, D.C., Baltimore, Philadelphia, New York City and Boston — as well as points farther inland — beginning late this weekend and lasting through much of the early part of the week.
The major weather maker influencing the wintry blast will be the same storm that pummeled California with heavy rains and feet of snow. It's set to track across the country and restrengthen as it hits the Midwest and, by the time it emerges across the Ohio Valley, is likely to interact with a developing low forming off the Atlantic coast and erupt into a full-blown nor'easter.
"The storm is far from winding down as it will have major impacts from coast to coast," AccuWeather Chief Broadcast Meteorologist Bernie Rayno said.
"As we start to get a secondary storm to develop along the coast of South Carolina," Rayno said, "then that storm will get guided up along the Eastern Seaboard."
Winter storm warnings are in effect from western North Carolina to northeastern Pennsylvania and northern New Jersey. Cities in this area include Roanake, Virginia, Washington, D.C., Baltimore, and Philadelphia. Winter storm watches remain in place for other parts of the Northeast, including New York City and Boston.
AccuWeather forecasters warn that the secondary storm along the Eastern Seaboard will evolve into a major and long-lasting nor'easter and will pound areas with accumulating snow and gusty winds. Blizzard conditions may unfold for multiple hours, mainly in areas near the mid-Atlantic and New England coasts.
Read More at AccuWeather.com