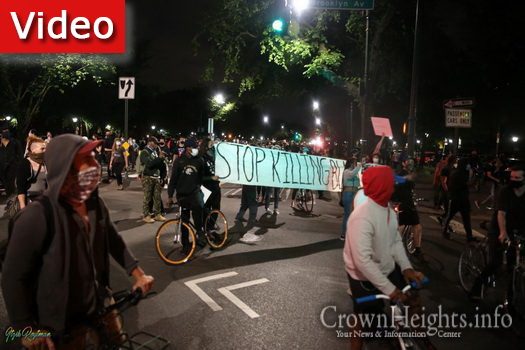 Thousands of people have taken to the streets of New York City since Saturday protesting the death of a Minneapolis man in the hands of the police. CrownHeights.info will be posting basic updates and critical information regarding the protest and any threats to the Crown Heights Jewish community.
These updates do not count for any smaller splinter groups, or people who decide to do criminal acts on their own. Please continue to take extreme caution and maintain heightened awareness.
(As the protests have moved away from Crown Heights and protests have remained largely peaceful in NYC, I will be signing off for tonight. For further updates, subscribe to CrownHeights.info's whatsapp updates by texting "subscribe" and your name to 718-285-8000.)
Update 11:30pm: Large Protest is presently at the Barclay Center.
Update 10:59pm: Group of around 400 people marching towards the Barclay Center at this time.
Update 10:57pm: As per the police, the protest group on Eastern Parkway has dispersed completely.
Update 10:44pm: A large group has continued on Brooklyn Ave towards Atlantic Ave.
Update 10:40pm: Reports indicate that the group is presently being dispersed by the police, with each going their own way.
Update 10:37pm: New York Ave is closed by Empire Blvd next to the Police Precinct.
Update 10:35pm: Eastern Parkway now.

Update 10:31pm: They are presently at Eastern Parkway and Brooklyn Ave.
Update 10:30pm: There are presently two groups of protesters making their way along Eastern Parkway, and as of now, appear to be meeting up at the intersection of Brooklyn Ave. Updates to be provided as information becomes available. If you have information or an update, whatsapp it to 718-285-8000.