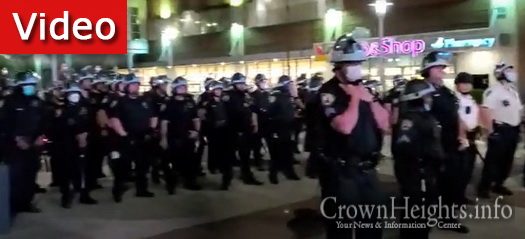 Thousands of people have taken to the streets of New York City since Saturday protesting the death of a Minneapolis man in the hands of the police. CrownHeights.info will be posting basic updates and critical information regarding the protest and any threats to the Crown Heights Jewish community.
These updates do not count for any smaller splinter groups, or people who decide to do criminal acts on their own. Please continue to take extreme caution and maintain heightened awareness.
(Signing off for the night. Stay safe all!)
Update 11:46pm: 34th Street, 7 under.
Update 11:45pm: 55 and 8th, 8 under at this time.
Update 11:41pm: 34 and 8 looting Duane Reede.
Update 11:38pm: 200 people crossing the Manhattan bridge into Manhattan.
Update 11:36pm: Multiple under arrest in Manhattan as Police begin Arresting for Curfew.
Update 11:32pm: Advised that Manhattan prison is full, future arrests must be taken elsewhere.
Update 11:27pm: Injured MOS 42 and 8th. Injury to right Shoulder.
Update 111:26pm: Group of around 300 protesters are marching up Flatbush towards Manhattan.
Update 11:25pm: 14 under in Manhattan.
Update 11:22pm: Number raised to 400.
Update 11:21pm: 41 and 7th, Officer calling for assistance. 100 people Looting a store.
Update 11:12pm: Reports that 911 in NYC is going to voicemail. PLEASE DO NOT TEST!
Update 11:10pm: 47 and Madison, 85 called looting a liquor store.
Update 11:07pm: 49 and Broadway Looting a CVS.
Update 11:01pm: Curfew has arrived, Looting and protest still active.
Update 10:54pm: Looting Duane Reade at 52nd and Madison in Manhattan.
Special Thanks: Over 35 Shomrim volunteers assisted the police tonight as nearly 2000 protesters made their way on Eastern Parkway through Crown Heights. Thanks to their combined work, the protest passed peacefully through the community and made a large Kiddush Hashem.
Update 10:40pm: Multiple under arrest for looting. Officers requesting for transportation for those arrested.
Update 10:33pm: 10-13 transmitted on 41st and Broadway in Manhattan. Looters and objects being thrown at officers.
Update 10:30pm: Chaos in Manhattan with multiple stores being looted.
Update 10:15pm: Watch as Crown Heights gives a round of applause to the NYPD, showing their support.

Update 10:11pm: Police calling for additional officers by Macy's in Manhattan.
Update 10:08pm: The protest has turned up Utica, heading towards the 77th precinct.
Update 10:05pm: Tail of protest has passed 770.
Update 10:03pm: Lead is presently almost at Utica.
Update 10:01pm: On Eastern Parkway. Peaceful.

Update 10:00pm: Lead of protest is presently passing Troy, heading to Schenectady.
Update 9:58pm: Lead of the protest group has passed Albany Ave, heading towards Troy.
Update 9:57pm: Passing 770.

Update 9:54pm: Outside 770 immediately before the protesters arrive.

Update 9:52: Passing Eastern and Nostrand.

Update 9:50pm: Presently Eastern Parkway Brooklyn to Kingston, approaching 770.
Update 9:46pm: Presently Eastern Parkway, New York to Brooklyn.
Update 9:41pm: The large group on Eastern Parkway is nearing Franklin Ave. Large Police presence. Please stay indoors. Protest is peaceful for now.
Update 9:30pm:  Multiple arrests made in Manhattan for Looting. Calling for vehicles to transport them.
Update 9:25pm: Large protest group presently outside the Brooklyn Museum on Eastern parkway. Peaceful at this time.
Update 9:23pm: Police officers calling for multiple locations where looters have broken into stores.
Update 9:20pm: Video near the Barclay Center from a little earlier.

Update 9:09pm: 2000 protesters are presently at Flatbush Ave and Sterling Pl, heading to Grand Army Plaza.
Update 9:00pm: Multiple under arrest as stores have windows broken and are looted along Lexington and Broadway.
Update 8:37pm: Protesters in Manhattan have ripped down scaffolding.
Update 8:32pm: AT THIS TIME, THERE IS NO ACTIVE THREAT FOR THE CROWN HEIGHTS COMMUNITY. An old video from yesterday has been circulating showed an altercation at Empire Blvd and Flatbush Ave. There has been no protesters at that location today.
Update 8:30pm: 50th and 5th Ave, Bricks and fireworks being thrown at police.
Update 8:28pm: A group in Manhattan is looting a BMW, after looting the back of a tractor trailer.
Update 8:25pm: One under at Washington Ave and Fulton with firearm recovered.
Update 8:20pm: Presently, there is a large protest group marching along Fulton Street in Brooklyn, a large group crossing into Manhattan from Brooklyn, and large groups roving lower Manhattan.