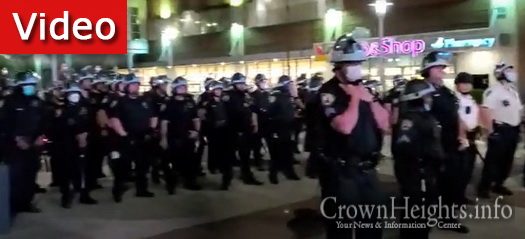 Thousands of people have taken to the streets of New York City since Saturday protesting the death of a Minneapolis man in the hands of the police. CrownHeights.info will be posting basic updates and critical information regarding the protest and any threats to the Crown Heights Jewish community.
These updates do not count for any smaller splinter groups, or people who decide to do criminal acts on their own. Please continue to take extreme caution and maintain heightened awareness.
Morning Update: The Brooklyn Protests ended soon after 1:00am without much damage to property or injuries. The Manhattan protests ended many hours later with many looted stores, arrests, and shootings. Stores including Best Buy in Union Square, a Duane Reade, Bloomingdale's, a Rolex store and others were looted and had their windows broken.
Update 12:07am: Looters have broken into the CHANEL store on Spring Street in Manhattan. Police are on scene.
Update 11:48pm: A large group of protesters from Brooklyn have made their way onto the bridge heading to Manhattan.
Update 11:14pm: Ashland and Lafayette, man in the crowd with a molotov cocktail. Police asking for additional units.
Update 11:04pm: Watch the action live from the Barkley Center.

Update 10:53pm: Police car on fire Livingston Street and Elm Place in Brooklyn.
Update 10:51pm: Police report objects being thrown at them in Union Square, Help requested.
Update 10:40pm: Protest at the Barkley Center. Police requesting all available units.

Update 10:37pm: As per a report, the Mayor forbade the NYPD Mounted Units from being mobilized.
Update 10:34pm: 23rd and 5th, Police officer calling for help.
Update 10:16pm: 14th and 5th Ave, three under arrest, PD requesting additional to that location.
Update 10:11pm: 41st and 6th, 11 under arrest, 7 males 4 females. Corrections bus requested to transport them.
Update 10:04pm: Reports indicate that Mayor Bill DeBlasio's daughter has been arrested at the protest in Manhattan.
Update 9:59pm: Large Fire on the route, calling FDNY.
Update 9:58pm: Multiple arrests being made along the route.
Update 9:53pm: Police officers at 12th and Broadway are reporting that they are having objects thrown at them from within the crowd.
Update 9:50pm: As per Police reports, a large group of a few thousand protester are presently stationary at the Barkley Center. They are peaceful at this time.
Update 9:45pm: At this time, the large crowds of protesters that had crossed the Williamsburg Bridge earlier today and marched to the Barkley Center, have turned back to Manhattan. At this time, there is no specific threat to the Crown Heights area as per a police source.