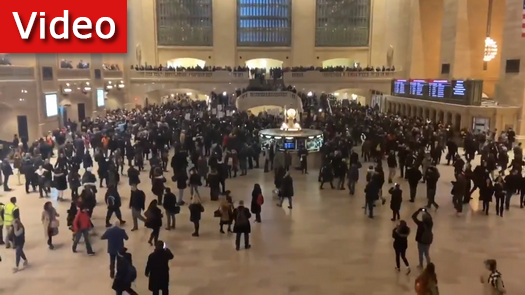 There were multiple arrests after protesters gathered at Grand Central before taking to the streets Friday night.
Police struggled to hold back the elbow-to-elbow protesters covering the main floor of Grand Central Terminal.
The group started gathering just after 5 p.m., many wearing masks and carrying anti-police posters. Some tried to hang banners in the terminal, all aiming to disrupt the evening commute.
According to police, the NYPD arreted 13 people and gave out 11 summonses, while the MTA police made three arrests and eight summonses.
Prior to staging the disruption on Friday, three masked members of the protest group could be seen in a Twitter video encouraging people to skip fares, damage turnstiles and engage in a mass sabotage of the MTA, pointing followers toward a demonstration at Grand Central.
The group says it wants to abolish subway fares and get rid of police patrols in the transit system.
Read More At CBS2News
Anti police protests now at Grand Central Terminal. The latest at 5 & 6 on @CBSNewYork @JessicaMooreTV pic.twitter.com/Lgl6CTztjx

— Ali Bauman (@AliBaumanTV) January 31, 2020