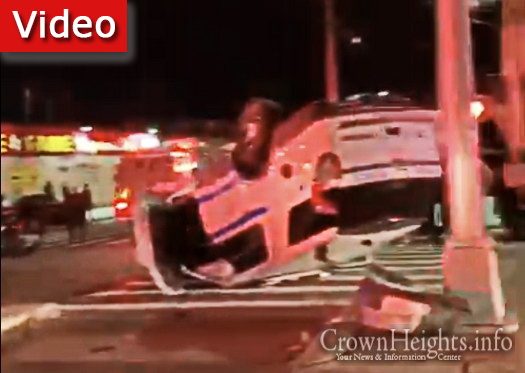 A Police vehicle overturned Motzai Shabbos after it hit another vehicle in a Brooklyn intersection. Two officers were reported injured, and taken by ambulance to the hospital.
by CrownHeights.info
Two officers were injured Motzai Shabbos after they reportedly got into an accident that flipped their vehicle over.
The accident occurred around 8:15pm at the intersection of Utica Ave and Ave L in Brooklyn.
A witness of the accident reported on the Citizen app that the Police SUV "ran a red light," before hitting another car. The SUV then "hit the median and flipped over."
The accident prompted a massive NYPD response, as well from the FDNY and EMS.
The two injured officers were reported as being only minorly injured.
Photos: Citizens App