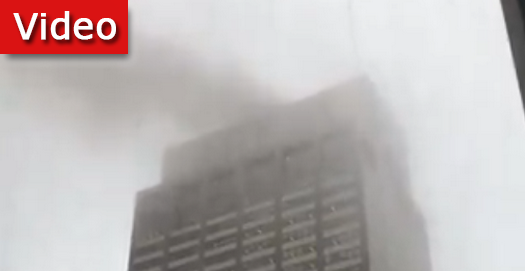 A pilot died, and a scare ensued after a helicopter crashed on the roof of a Manhattan sky scraper Monday. The crash brought back a scare to 9/11, and authorities are investigation the incident.
by CrownHeights.info
A Monday helicopter crash on the roof of a Manhattan skyscraper set in motion a 9/11 type scare.
The helicopter, which only had the pilot on board, crashed into the AXA Equitable building and sparked a fire.
Office workers in the building reported a mad evacuation, as the entire 750 foot building shook.
Authorities are investigating as to how the incident happened, as well as to how the helicopter was flying in the high security zone over Manhattan in heavy weather.
WATCH: Helicopter disappears into the clouds before crashing into building in Manhattan; the pilot was killed

(CREDIT: Wendy Slater)pic.twitter.com/c8GGlL9DWN

— Breaking911 (@Breaking911) June 10, 2019
Evacuation in Midtown West. 51st Street and 6th Ave near Radio City Music Hall and Rockefeller Centre.

We felt a jolt in our building and shortly after got the instruction to evacuate. #NYC #Evacuation #Midtown pic.twitter.com/lH2YwilqqJ

— Javanni. (@JavanniWaugh) June 10, 2019
787 7th ave, #midtown NYC. We're 1 block south. 20 mins ago there was a loud sound like a too-low #helicopter & I looked up and saw sheet of flame on roof and then smoke. News reports saying helicopter/small plane crash onto roof which would be consistent with what I heard/saw. pic.twitter.com/swY3ksLskH

— Lance Koonce (@LHKoonce) June 10, 2019