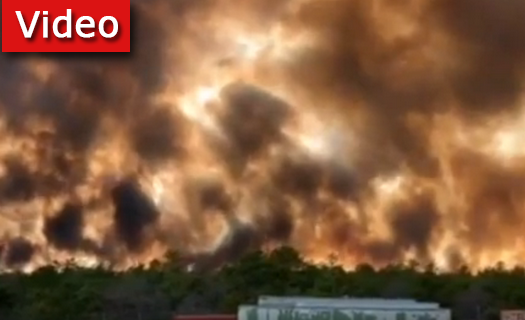 As firefighters battle a massive blaze that's torn through more than 8,000 acres in the Pinelands, residents as far away as Brooklyn New York are reporting that they can smell the smoke.
The smoke plume from the South Jersey blaze even appears on radar.
In addition to smoke, residents in areas of Monmouth and Middlesex counties are reporting falling ash covering vehicles Sunday morning.
Residents in Lakewood NJ report that ash has been falling all morning.
The fire was first reported around 1:45 p.m. Saturday in Penn State Forest in Woodland Township, Burlington County.
High winds helped drive the blaze through the afternoon and it had grown to 5,000 acres as of 10 p.m. Saturday, with 10 percent containment. The fire was expected to expand overnight.
The fire was burning through the Penn State Forest, which the New Jersey Department of Environmental Protected describes as "undeveloped wilderness" that attracts picnickers and hikers. The forest is part of the Pine Barrens, which contains several areas of pine and oak forest.
Many took to Twitter on Sunday morning to show the clouds of smoke from the blaze and report smelling smoke upwards of 50 miles away, including on New York's Staten Island.
#PineBarrens #Wildfire this is what my backyard in #TomsRiver looks like…@nj1015 @njdotcom @News12NJ pic.twitter.com/QNcs99Wj0N

— Liz Rios🇺🇸 (@LiRi347) March 31, 2019