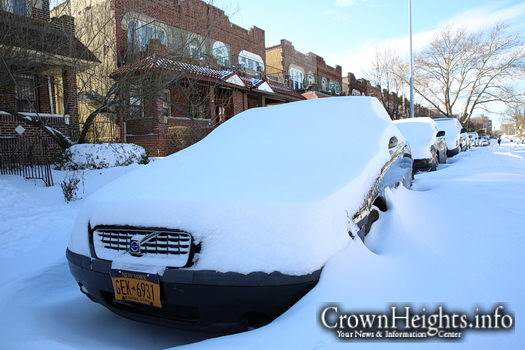 NYC Braces for 4th Nor'easter in a Month
For the third time in as many weeks, New York City and the surrounding areas are bracing once again for another potentially dangerous storm – that can bring up to 12 inches of snow and high winds in the city. Emergency alerts and travel advisories have been issued.
By NYC OEM
The New York City Emergency Management Department today issued a hazardous travel advisory for Wednesday, March 21. The National Weather Service has issued a Winter Storm Warning for New York City in effect from midnight through 8 a.m. Thursday, March 22. According to the National Weather Service, a nor'easter is expected to bring a wintry mix of rain, sleet, and snow to the city. Precipitation begins as a mix of rain, sleet, and snow Tuesday evening and will transition to snow overnight into Wednesday. Snow will become steadier early Wednesday during the morning commute. The heaviest period of snow is forecast for Wednesday afternoon through Wednesday night. Snow is expected to end early Thursday morning.  The National Weather Service currently predicts a total of more than 6 inches of snow, with the potential for up to between 12 and 16 inches possible.
High winds are also in the forecast, with sustained winds 20 mph to 30 mph, and gusts up to 45 mph. The strongest winds are expected throughout the day on Wednesday. High winds continue Thursday, before subsiding early Friday morning. Temperatures Wednesday are forecast to be around freezing, with wind chill values between 15 and 20 degrees during the day, and between 20 and 25 degrees late Wednesday. Temperatures increase into the low forties on Thursday.
A Winter Storm Warning for snow means severe winter weather conditions will make travel hazardous. Commuters are advised to use mass transit where possible. If you must travel, keep an extra flashlight, food, and water in your vehicle in case of an emergency, and exercise extreme caution when driving, walking or biking.
NYC Emergency Management also advises residents living in coastal areas to prepare for the potential for coastal flooding on Wednesday. The National Weather Service has issued a Coastal Flood Advisory for the shorelines of Staten Island, Brooklyn and southern Queens in effect from 10 a.m. through 2 p.m. Wednesday. Localized minor to moderate coastal flooding is possible with the hide tide cycles on Wednesday. New Yorkers living in coastal areas are advised to prepare as some roads and low-lying property may experience shallow flooding.
"The calendar may say spring, but winter is sticking around a little longer, as the fourth nor'easter in two weeks is forecast to bring snow that will make travel extremely hazardous," said NYC Emergency Management Commissioner Joseph Esposito. "New Yorkers should take this storm seriously. If you have to go out, use mass transit where possible and allow for extra travel time."