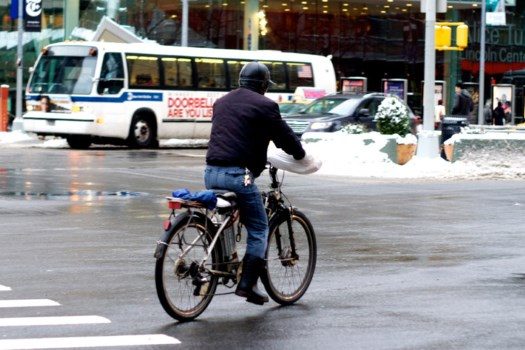 Photo: William Ward.
From the Washington Post:
Cheap, electric bicycles have made life a lot easier for New York City's legions of restaurant delivery workers, but the party may be over in the New Year.
City officials are promising a crackdown on e-bikes, which may be loved by environmentalists and the largely poor, immigrant workforce that relies on them, but are loathed by many drivers and pedestrians who think they are a menace.
Under city law, the bikes are legal to own and sell, but riding them on the street can lead to a fine of up to $500. Democratic Mayor Bill de Blasio announced this fall that starting in 2018, businesses that have employees use the bikes are also subject to a fine of $100 for a first offense and $200 for each subsequent offense.
"Electric bikes are illegal to operate on city streets and those at the top of the food chain need to be held accountable," city spokesman Austin Finan said. "Instead of merely targeting riders, we're going after businesses that look the other way and leave their workers to shoulder the fine."