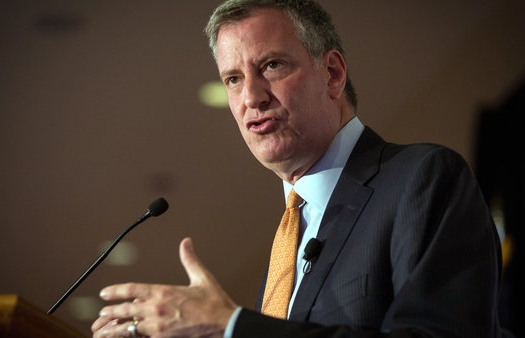 De Blasio Reelected Mayor amid Record Low Turnout
by CrownHeights.info Staff
New York City has seen record low voter turnout in Tuesday's general elections with just 24 percent of registered voters turning out to vote, giving mayoral incumbent Bill De Blasio and easy victory over republican challenger Nicole Malliotakis.
The city's previous record for low voter turnout was four years ago when only 28 percent turned out. Comparatively, the highest turnout was in 1953 when 93 percent of registered voters turned out.
Since then the only time voter turnout topped 50 percent was in 1993 when 57 percent turned out to elect Rudolph Giuliani over incumbent David Dinkins.
Most other positions were retained by the incumbents. Letita James was reelected public advocate. Scott Stringer was reelected city comptroller. Eric Gonzalez was elected as Kings County district attorney.
In Boro Park's 44th Council District Kalman Yeger defeated Yoni Hikind by over 30%, both were vying for the seat vacated by Greenfield who resigned before taking a job in the private sector. Yeger was Greenfields pick in replacing him.
Brooklyn Borough President: Eric Adams was reelected, defeating challengers Vito Bruno and Banjamin Kissel.
35th Council District: Laurie Cumbo was reelected, defeating challengers Jabari Brisport and Christine Parker.
40th Council District: Mathieu Eugene was reelected, defeating challengers Brian-Christopher Cunningham and Brian Kelly.
45th Council District: Jumaane Williams was reelected, defeating challenger Anthony Beckford.
Also on the ballot were three proposals, the first was whether to hold a constitutional convention – which was overwhelmingly voted against. The second, whether an elected official convicted of a felony related to his duties should lose his pension – was overwhelmingly supported. The third related to land use in Upstate New York – was voted down.