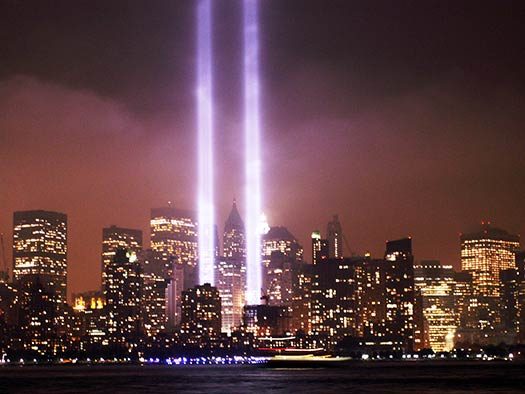 Tribute in Light. Photo: Jackie, Flickr
Today, 9/11/15 marks 15 years to the terror attacks on our country, the attacks that claimed 2,977 lives including 343 firefighters and 72 police officers.
Early in the morning on September 11, 2001, nineteen hijackers took control of four commercial airliners en route to San Francisco and Los Angeles from Boston, Newark, and Washington, D.C. (Washington Dulles International Airport).
At 8:46 a.m., American Airlines Flight 11 was crashed into the World Trade Center's North Tower, followed by United Airlines Flight 175 which hit the South Tower at 9:03 a.m.
Another group of hijackers flew American Airlines Flight 77 into the Pentagon at 9:37 a.m.
A fourth flight, United Airlines Flight 93, whose ultimate target was thought to be either the United States Capitol or White House, crashed near Shanksville, Pennsylvania at 10:03 a.m, after the passengers on board engaged in a fight with the hijackers.
NYC Observation of 9/11
Moments of silence will be observed on Sunday to mark the 15th anniversary of the 9/11 terror attacks.
The first pause will come at 8:46 a.m., the moment American Airlines Flight 11 slammed into the World Trade Center's north tower.
Another moment of silence, at 9:03 a.m., will mark when United Airlines Flight 175 struck the south tower.
A third will come at 9:37 a.m., the time when American Airlines Flight 77 struck the Pentagon.
At 9:59 a.m., a moment of silence will mark the fall of the south tower.
Four minutes later, a fifth silence will mark the crash of United Airlines Flight 93 near Shanksville, Pa.
A final pause, at 10:28 a.m., will mark the fall of the north tower.
The names of all 2,977 people killed on 9/11 and those slain in the Feb. 26, 1993, World Trade Center bombing will be read between 8:46 a.m. and 12:30 p.m. Families of the victims will read the names in pairs.
An honor guard representing the FDNY, NYPD and PAPD will participate in the ceremony on the 9/11 Memorial Plaza downtown.
The twin beams of light known as the "Tribute in Light" will tower over the city from sundown Sunday until dawn Monday.
The 9/11 Memorial Museum will be open solely for family members.