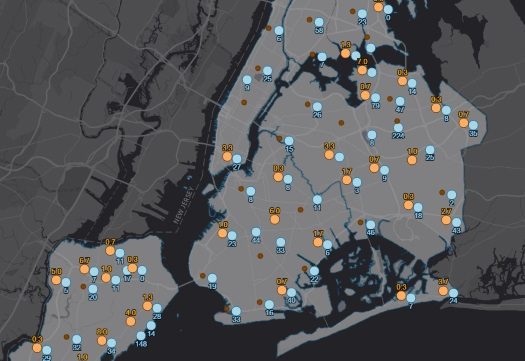 Interactive Zika mosquito map
NYC Launches Mosquito Information Website in Battle Against Zika
New York City's health department has launched a new, interactive mosquito information website as part of its three-year, $21 million effort to keep the Zika virus from spreading.
The new site includes information about mosquito surveillance and control activities across the city as well as recent mosquito control events by neighborhood.
Each mosquito season, the city implements the mosquito control plan to reduce mosquito populations. Through this plan, the Health Department:
Reduces mosquito breeding sites by removing standing water and applying larvicide to sites that cannot be emptied or drained. Larvicides are pesticides that affect only mosquitoes and are harmless to people. They are dropped by helicopter onto marshes and other large natural areas to kill mosquito larvae before they grow into adult mosquitoes. This practice is called aerial larviciding.
Monitors mosquito populations and disease. When monitoring data shows an increased risk of disease, the Health Department sprays pesticides from trucks to control adult mosquitoes. This is called adulticiding. These applications can happen in residential or non-residential areas and are carefully planned and conducted to avoid human exposure to the pesticides.
Works with the public to reduce standing water through public outreach/education and by investigating 311 standing water complaints.
For more information to track spraying and get other Zika information, visit the new website at www.nyc.gov/health/mosquito.