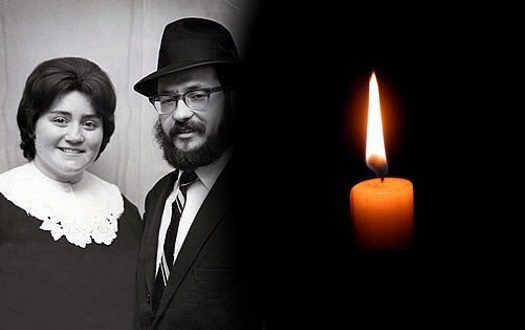 With sadness we inform you of the passing of Mrs. Mindelle Feller, OBM, veteran Shlucha and educator who co-founded Chabad's activities in the state of Minnesota as one of the first Shluchim sent by the Rebbe in the United States. She was 75 years old.
Mrs. Feller dedicatedly and selflessly served the Jewish community of the Twin Cities, Minneapolis and S. Paul, since moving there with her husband, Rabbi Moshe Feller, to found Chabad-Lubavitch of Minnesota in 1961.
"Before my wife and I moved out to Minnesota, we had a private audience with the Rebbe," said Rabbi Moshe Feller, 79, in a recent interview with Chabad.org. "The Rebbe spoke mostly to my wife. However, among other things, the Rebbe told me—and he said this word in English—that I would need to be 'flexible.' "
After the Fellers married, they eagerly looked forward to beginning their career together as emissaries of the Rebbe. Since he had previously found success as a "Roving Rabbi" in Mexico, the young rabbi expected to be sent there. "The last place in the world I wanted to go was back to Minnesota," he recalls. "But the Rebbe told us that he wanted us to go there to establish Chabad in the Upper Midwest, and we went with joy."
Upon their arrival, it was the flexibility the Rebbe spoke about that inspired the young couple to begin their work in the Twin Cities of Minneapolis-St. Paul, with the firm resolve not to duplicate the existing Jewish infrastructure in the city.
They started by traveling to small towns that had no organized Jewish life, arranging Hebrew schools, adult-education classes and holiday programs for the Jews they found there. That first year, they also arranged special father-and-son Shabbat services in their home for Holocaust survivors and their sons, many of whom were approaching bar mitzvah age.
By 1963, they had founded what may have been the first Gan Israel day camp in history, a success that has been replicated in hundreds—if not thousands—of cities around the world.
In 1965, the Fellers opened the Lubavitch House in a 12-room home. Then an innovation, it served as a retreat for Shabbat and other Jewish gatherings. Through their efforts a year later, Rabbi Asher Zeilingold was brought in to serve as rabbi at the revitalized Adath Israel Congregation, a position he has now held for 50 years and counting.
When the Lubavitch House was burned by arsonists in 1968, the Fellers buried the Torahs and went on to purchase a mansion in Highland Park. In 1971, together with Rabbi Manis Friedman, the Fellers founded Bais Chana—the world-renowned educational institute for women seeking to learn about Judaism—which today boasts some 20,000 alumnae. In 2000, Chabad again relocated to a new 23,000-square-foot facility in West St. Paul.
More than a decade later, in 1977, the time came to found a Chassidic day school in St. Paul, and Lubavitch Cheder Day School was born, with Mrs. Feller serving as founding principal.
Today, under the directorship of Rabbi Shlomo Bendet, the school continues to thrive as a bastion of Jewish education and excellence.
She is survived by her husband, Rabbi Moshe Feller, as well as by her children, grandchildren and great-grandchildren.
The Levaya and burial took place on Wednesday in Minnesota.
Boruch Dayan Hoemes