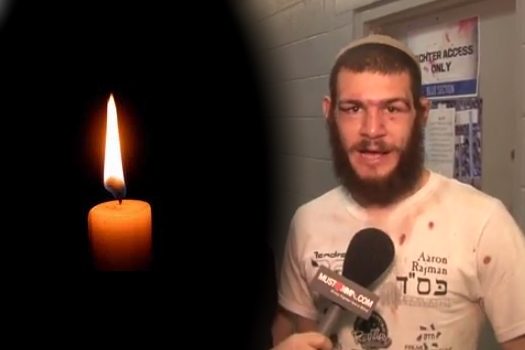 With great sadness and pain we inform you of the murder of Aaron Rajman, 25, a member of Chabad of West Boca Raton, Florida, by a number of unidentified men who broke into his home.
Aaron Rajman rose to fame as one of the world's only Orthodox-Jewish Mixed Martial Arts (MMA) fighters.
He grew up attending Chabad of West Boca Raton, where he resided with his mother and siblings until his murder at around 10:30pm Monday night.
Police are still trying to determine the cause of the break-in, and whether it was a random robbery gone awry or a targeted attack.
His mother and siblings were not home at the time of the attack.
Rabbi Zalman Bukiet, spiritual leader of Chabad of West Boca Raton, told CrownHeights.info that the news came as a shock to his tight-knit community, as they all knew Aaron as a sensitive, caring and kindhearted soul.
As the community and family reeled from the sudden tragedy, Rabbi Bukiet immediately set about working to ensure that the deceased is brought to a proper Jewish burial. As the family is not well off financially, he set up a fund to help them cover the funeral and burial costs, which can be contributed to by clicking here: www.chabadboca.com/aaronrajmanburialfund.
Aaron is survived by his mother, Lauren, as well as his two brothers and four sisters. He is predeceased by his father, who tragically passed away several years ago due to ill health.
Levaya and Shiva information will be posted when they become available.
Boruch Dayan Hoemes