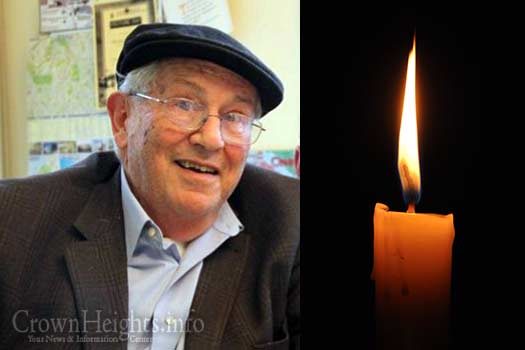 It is with great sadness that we inform you of the passing of Mr. Dovid Richler OBM of Toronto, Canada, a philanthropist who help build Shuls and Mikvaos in Montreal and Toronto and was the first student in Tomchei Temimim Lubavitch of Montreal. He was 88 years old.
Mr. Richler was the first student of Tomchei Temimim Lubavitch in Montreal in 1941 and was very active in the Jewish and Lubavitch community in Montreal.
He was the benefactor in the building of the main Mikvah in Montreal and was very active in it's construction and operation, serving as the Mikvah's president for many years. He also helped build several Shuls and was an early supporter of Camp Gan Yisroel in Montreal.
He later moved to Toronto where he continued to assist and volunteer for many great causes, in particular Zareinu, an Educational Center for children with physical and developmental challenges.
He is fondly remembered by many as being the candy-man in the main Lubavitch Shul in Montreal, and after he moved to Toronto in the Agudah South Shul.
He is survived by his wife Goldie (Toronto, Canada), and their children, Shmarya (Montreal, Canada), Hertzie (Los Angeles, CA), Malka Jakubovic (Toronto, Canada) and Baila Kuhnreich (Toronto, Canada) as well as many grandchildren and great grandchildren including some who serve as Shluchim of the Rebbe.
The Levaya will take place on Sunday at 12:00pm in Toronto
Shiva Details to follow
Boruch Dayan Hoemes