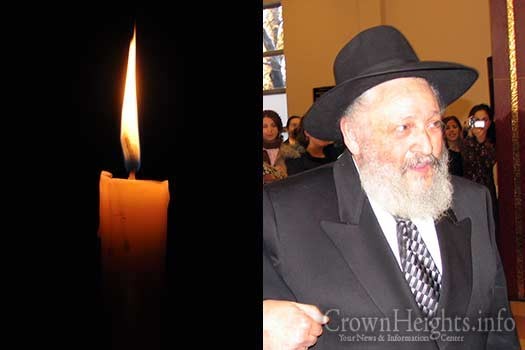 With great sadness and pain we inform you of the sudden passing of Rabbi Simcha Yerachmiel Zirkind OBM, Shliach of the Rebbe to Tunisia and later to Montreal, Canada. He was 76 years old.
Rabbi Simcha was the son of Rabbi Mordechai Shachne and Ada Zirkind, who served as the principal of Beis Rivka for many years.
In the 1960's the Rebbe sent him on Shlichus to Tunisia. After the Six Day War he was suspected in being a spy for the Mosad and was forced to leave. From there he moved Paris, then to New York and then on Shlichus to Montreal, QC, where he spearheaded the opening of the first Chabad House in Downtown Montreal and many of the programs of Lubavitch Youth Organization.
He was also the director of the Canadian branch of the Machne Yisroel Development Fund.
He is survived by his wife Fraidel and children Rabbi Levi Yitzchok Zirkind (Fresno, CA), Mendy Zirkind (Montreal) Zalman Zirkind (Montreal), Devorah Leah Fox (Crown Heights), Chaya Rosenberg (Sherman Oaks, CA), Nechama Dina Turk (Chicago, IL), Shternie Litzman (Monsey, NY), Yisroel Zirkind (Chicago, IL) and Sholom Ber Zirkind (Baltimore, MD).
He is also survived by his sister Peshy Stern (Brooklyn, NY).
The Levaya will take place Sunday morning in Montreal at 7:00am in front of the Yeshiva on Westbury. It will then pass by 770 in Crown Heights at around 2:30pm.

Boruch Dayan Hoemes