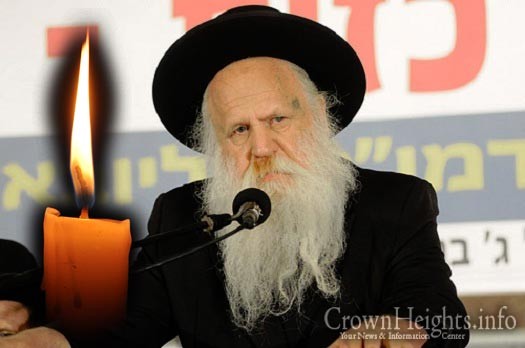 With great shock and sadness we inform you of the sudden passing of Harav HaChossid Harav HoGaon Rabbi Mordechai Shmuel Ashkenazi, OBM, the Moro D'Asro and Rov of Kfar Chabad. He was 71 years old.
R. Ashkenazi was on his way to the city of Tiveria to visit and daven at his father's graveside, whose yohrtzeit is today, when he suddenly felt ill. He pulled his car over and called for help, which arrived quickly and evacuated him to a nearby hospital in grave condition.
Despite doctors' best efforts, he passed away a short while later in the Shiba-Tel Hashomer Hospital.
Rabbi Ashkenazi was born in Tel Aviv to an illustrious and respected family of Rabbonim, where his grandfather from his mother's side, Rabbi Eliezer Karasik, OBM, served as Rabbi of the community. After his passing, Rabbi Ashkenazi's father, Rabbi Moshe Ashkenazi, OBM, became Rabbi of the Tel Aviv community. His grandfather from his father's side, Rabbi Meir Ashkenazi, was the Rov of Shanghai.
In his youth Rabbi Ashkenazi learned in Yeshivos Chabad in Tel Aviv and Lod, and when he turned 20 he traveled to learn in Yeshivas Tomchei Temimim Lubavitch in Crown Heights.
Rabbi Ashkenazi received his Semicha for Rabbonus from the first Rabbi of Kfar Chabad, Rabbi Shneur Zalman Gorelik, OBM.
In 1974, a tragic accident claimed the life of the then-Rabbi of Kfar Chabad, Rabbi Shneur Zalman Gorelik, OBM. Following the tragedy, two Rabbonim were appointed in his stead, Rabbi Nochum Trebnik, OBM, was appointed as Moro D'Asro and Rabbi Ashkenazi, then just 31, was appointed as Moro Horo'ah.
Ten years later, in 1984, Rabbi Trebnik passed away, and Rabbi Ashkenazi assumed all Rabbinic responsibilities in Kfar Chabad.
In 1976, Rabbi Ashkenazi was appointed as a member of the Beis Din Rabonei Chabad.
Rabbi Ashkenazi was a prolific learner and writer, who published many seforim on Hilchos Talmud Torah L'Shluchan Oruch Harav, and had just undertaken a large project to research Minhogei Yisroel and Hanhogos Chabad.
He is survived by his wife, Sima, as well as his many children, grandchildren and great-grandchildren.
The Levaya will take place in Israel at a time to be announced.
Boruch Dayan Hoemes