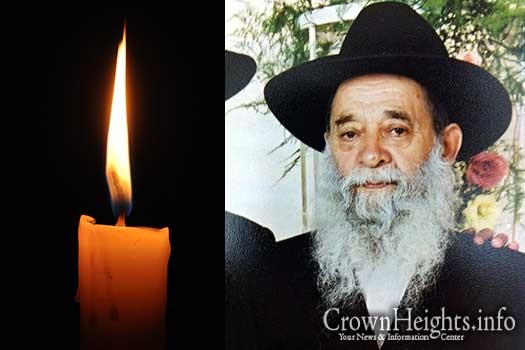 With sadness we inform you of the passing of Rabbi Yaakov Yosef Lepkivker, OBM, of Bnei Brak, the patriarch of a prominent Lubavitch family and the father of three longtime members of the Crown Heights community. He was 86 years old.
Reb Yaakov was a veteran member of the Lubavitch community in Bnei Brak, Israel. He exemplified what it means to be a true Chossid, and was an inspiration in that regard to all who knew him.
He was a kindhearted Baal Chessed, and spent nearly every free moment he had to do Mivtzoim and bring other Jews closer to G-d. He was known – despite his old age – to stand for many long hours in the central bus station in Tel Aviv and help his fellow Jews put on Tefilin and say Shema.
He is survived by his wife, Sarah Esther, and children: Mrs. Leah Raksin (Petach Tikvah, Israel), R' Baruch Lepkivker (Crown Heights), R' Yitzchok Lepkivker (Petach Tikvah, Israel), R' Menachem Lepkivker (Kfar Chabad, Israel), Mrs. Chanie Krieman (Crown Heights), R' Chaim Lepkivker (Crown Heights), and R' Shmulik Lepkivker (Tel Aviv, Israel).
The Levaya will take place today, Thursday, at 12:30pm at Shderot Ramban 3, Bnei Brak, and at 4 pm from Shamgar to Har Hamenuchot.
Baruch Dayan Hoemes