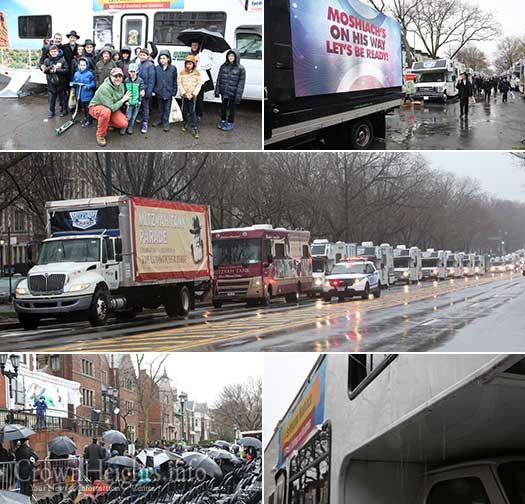 Marking the 115th birthday of the Lubavitcher Rebbe, dozens of 'Mitzvah Tanks' took to the streets of New York City to spread a message of redemption and of Pesach, as a 'gift' to the Rebbe.
The parade departed from 770, en route to New York City's cultural and business hub – central Manhattan. The entourage of 'Mitzvah Tanks' traveled down Eastern Parkway to Grand Army Plaza, up Flatbush Ave. and over the Manhattan bridge.
Upon arrival in Manhattan, the parade snaked up 6th Ave. to Central Park and then came back down 5th Ave. – known as the 'Canyon of Heroes' after the many parades that flow between its towering skyscrapers.
Following the parade, the Mitzvah tanks all disbursed to their pre-determined locations throughout the city to help Jews fulfill a Mitzvah or two.
There was Tefilin for men, Shabbos candles for women, along with Matzos and brochures for the upcoming holiday of Pesach.
One new addition to this years parade was a billboard truck, which a visual message to go along with audible message played from each of the tanks. "[The screen truck] was the idea of a number of children, and we went with it," said parade organizer Rabbi Mordy Hirsch.
Despite a steady downpour the parade went off without a hitch, spreading the message of hope, Pesach and redemption to tens of thousands on the streets of New York.