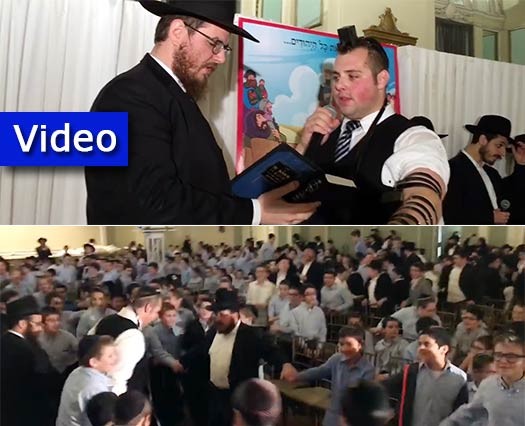 At a pre-Purim for students in Oholei Torah one principal discovered that their entertainer was a Jew who never put on Tefillin before. This lead to an impromptu Bar Mitzvah celebration.
The event, organized by the elementary school principals in honor of Purim and in the spirit of Hakhel, was to feature dancing and a show by a illusionist and comedian TJ (Thomas Joseph) Tana.
The principals arranged a pre Purim party for the entire school from Pre1A – 8th grade (around 950 students).
At the conclusion of the event Rabbi Shua Lustig asked if he had put on Tefillin and after professing that he was in fact Jewish, he said that he never put on Tefilin in his life! He then agreed to put on Tefilin, after his show, on the stage, in front of everyone! As long as it was recorded for his mother to see.
The entire school and staff danced with him and a pre-Purim event turned into a very large and beautiful Bar Mitzvah.
After he finished the staff got together and bought him a pair of Tefilim!