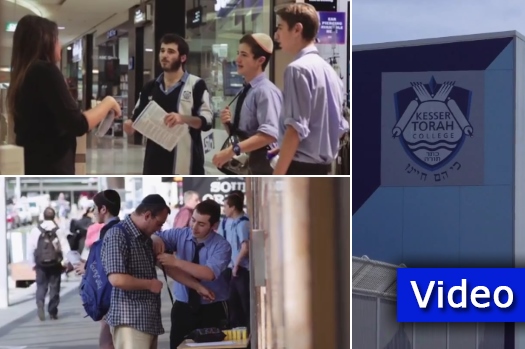 Each Friday afternoon, an excited group of Kesser Torah College Boys' High School students race from class to board buses to different parts of Sydney's Eastern suburbs. This weekly foray is a highlight of their week, when they get the opportunity to share the warmth of Judaism that they experience during their school day with Jewish men and women in the wider community.
In groups, the boys proudly distribute a weekly flyer, encourage men to put on Tefillin and give out Shabbos candles. They spread the joy of each holiday by distributing donuts and Menorahs on Chanukah, hundreds of Matzos before Pesach, and enable people to fulfill the Mitzvos of lulav and esrog on Sukkos and the reading of the Megillah on Purim.
Kesser Torah Boys High School is extremely proud of its strong Mivtzoim program, which has been running for just over a year and is gaining momentum with each week.
Principal Rabbi Dr. Noteh Glogauer is excited about the project. He said, "This program is about lighting the spark of a fellow Jew. The boys are taking the spark from KTC, and sharing that with others."
Besides reaching out to many members of Sydney's Jewish community, the program has had a very strong impact on the boys themselves. "Spreading the warmth of Yiddishkeit, and realizing how they can touch the lives of people out there, has had an amazing impact on their own self-confidence," said Rabbi Yaacov Chaiton, Head of Jewish Studies in the Boys High School.
Rabbi Chaiton is impressed by the boys' willingness to donate their time to the project. "Through Mitzvoim these boys have realized that despite their youth they have much to contribute and can have a significant impact on the wider community. What is most impressive is that the willingness of the boys to give of their spare time to go out on Mitzvoim has come about at their own initiative."
The enthusiasm for the program and its positive ramifications led to the school's decision to commission a short documentary, produced by filmmaker Asher Shellim, which would bring the program alive and spread its effects even further afield. Shellim shadowed the students for several months, capturing the essence of the program and the boys' passion for the project. The inspirational result, "Igniting souls in Sydney Australia" was the feature of the Boys' High School end-of-the-year event: