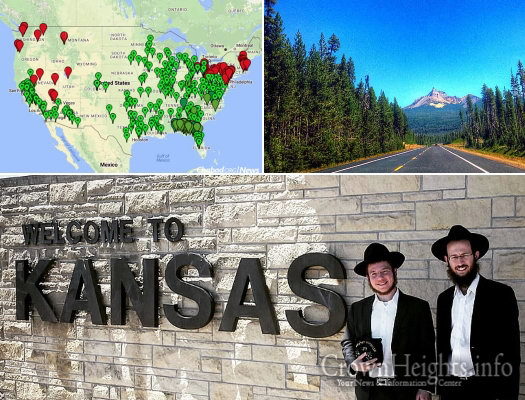 From Chabad.org:
The mattresses had been much thinner and harder in his former prison, which lacked air-conditioning and was full of gang activity. So why did L.S. (who is currently serving time in Kansas) want to transfer back there?
Because at that first correctional facility, he said, a rabbi would occasionally come to learn with the inmates—and it was an experience that L.S. held dearer than anything.
At less than 1 percent of the total prison population, Jews often feel even more isolated or alone behind bars even than most inmates. Following the call of the Lubavitcher Rebbe—Rabbi Menachem Schneerson, of righteous memory—the Aleph Institute established a summer program in the 1980s with the goal of ensuring that every Jewish inmate be visited at least once a year.
Three decades later, some 26 volunteers in 16 groups are currently traveling through 43 states, covering roughly 130 federal prisons, 400 state prisons and 10 county jails on a mission to reach as many incarcerated Jews as possible.
These volunteers provide nearly 4,000 incarcerated men and women with Jewish experiences, education, prayer, supplies and the comfort of knowing that they are not alone.
Rabbis Moshe Luchins and Menachem Mendel Munitz, now working their way through Nevada, describe meeting with an inmate and praying with him in tefillin. "He started to cry but couldn't wipe away his tears since his other hand was shackled," related the rabbis.
Feedback from inmates—often by old-fashioned pencil and paper, and sent in a stamped envelope—have been equally touching to the organizers. This one came from someone visited by a group currently traveling through the Deep South, through Alabama and Mississippi:
"I just want to thank you so much for the yeshivah boys that came to visit. It really lifted my spirits to know that I have such wonderful people looking out for myself and the others. I learned something new from them, and I appreciate that they took their time to come to the middle of nowhere."
Visitation coordinator Rabbi Avraham Y. Zajac asserts that such feedback motivates him to continue his work, planning itineraries and cutting through endless layers of red tape.
"It's the responses and results [from the visits] that drive me," he says. "I have a chance to read the reports and feedback, which is sometimes painful, sometimes inspiring and mostly grateful. I know that we are helping these 'forgotten' people connect. It's about bringing them the little light they need to persevere in the darkest places."
To learn more about the Aleph Institute's summer visitation program, click here.