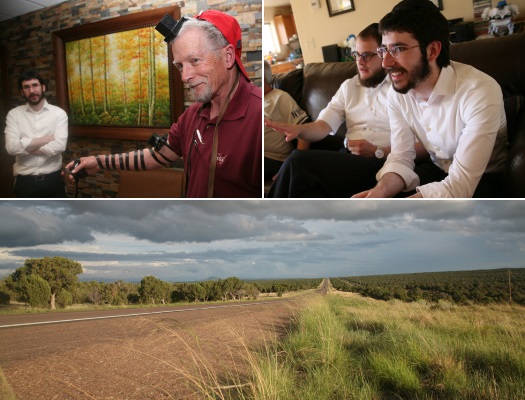 On Sunday, NPR radio ran a feature broadcast on two Chabad Yeshiva students traveling through rural Arizona this summer as part of the 'roving rabbis' program. The two Bochurim, Zalman Refson and Yaakov Kaplan, were interviewed for the program, along with a couple of isolated Jews they encountered on their travels.
From NPR:
Mountains and forests surround the little town of Show Low, Ariz. It's home to only 10,000 people, but the heavily Mormon community is still the biggest place for more than hour in every direction.
It's not the kind of setting that typically fosters a thriving Jewish community — which is exactly why Hasidic rabbinical students Zalman Refson and Yaakov Kaplan are here.
Residents of the rural West have historically relied on the talents of people passing through — traveling doctors, traveling circus performers and traveling preachers. So-called roving rabbis like Refson and Kaplan are carrying on that tradition, meeting rural Jews who otherwise might rarely interact with others of their faith.
They're two of the hundreds of rabbinical students who travel to rural places all across the globe each year. These roving rabbis make these journeys in the name of Chabad, a movement within Orthodox Judaism.
Young, bearded and dressed in black pants and long-sleeved white shirts, even in the Arizona heat, the two men stick out in Show Low. Kaplan says being a roving rabbi is all about helping Jews reconnect to their faith.
"By going out to other people and just trying to have a Jewish conversation, it makes my conviction stronger," Kaplan says.
Click here to continue reading at NPR or to listen to the broadcast.