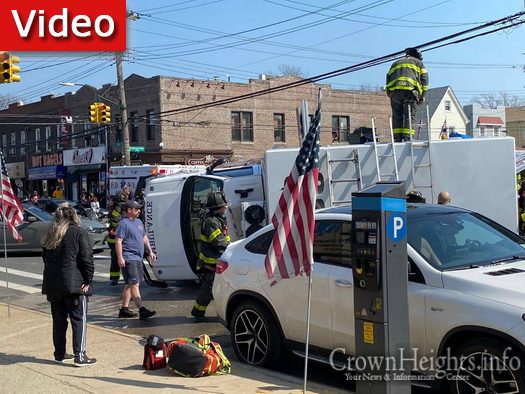 by CrownHeights.info
Brooklyn's District Attorney has announced an arrest made in connection with the a crash that flipped a Canarsie Hatzalah Ambulance in April.
According to the report, Fazal Zeshan, 18, was arrested on Wednesday and face ten charges including assault in the second degree, improper operation of vehicle upon approach of authorized emergency vehicles, excessive speed, reckless driving, unlicensed operator and multiple assault in the third degree counts.
Zeshan had been speeding towards an intersection on the wrong side of the street just as a Canarsie Hatzalah Ambulance entered the intersection with its emergency lights flashing. The ambulance was struck by the rear axle, flipping it over and injuring multiple people.
An elderly woman was a patient in the back at the time, and was having CPR done on the way to the hospital. She was pronounced dead in the hospital.