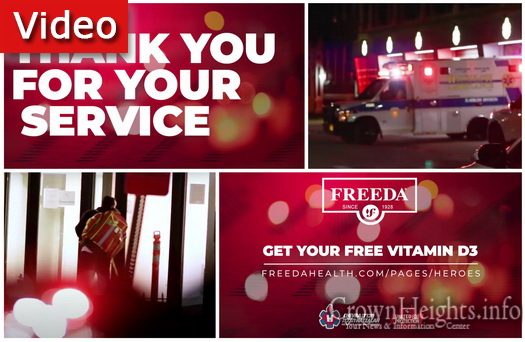 The past year has been challenging for Hatzalah frontline heroes everywhere, but Freeda Health proudly makes staying healthy a little bit easier with their generous contributions.
A year ago, the world seemed so uncertain. In 2020, Hatzalah-thon raised $15,181,016 with the help of their corporate sponsors. This year's goal is to raise another $15,000,000, but with a weeklong giving opportunity.
Hatzalah is committed to your well-being. With new variants of COVID-19 being discovered, nothing can improve your immune function better than getting the proper nutrients your body needs. That's how Freeda Health is committed to you!
Caring for your health is an important measure towards boosting your natural immunity. During Hatzalah-thon Week, we are sharing a 15% off code with everyone. Plus every order placed using this code, we're giving 10% of the purchase to Hatzalah. Together, we are giving more!
Are you a Hatzalah Member? Have we got a gift for you!
Last year, we shipped a Vitamin D3 bottle to every member who registered on our website. This year we changed our gift to match your personal needs.
"Vitamin D3's impact on improving immune system function is something most of us need since we don't get enough daily sun. We also understand the value of making a personal choice for continued health. This year we are providing a code to each member with the value of Vitamin D3 plus shipping. Simply add the product of your choice to your cart and your code at checkout to receive your discount. This helps to meet the individual needs of each volunteer.", a Freeda Health representative shared.
"New members will simply fill out an online form in order to take advantage of this promotion. Registered members will find their discount code in their email. New and registered members simply add their desired item to cart along with the discount code and it's applied at checkout."
"At Freeda Health, giving back matters and we are honored to be a part of this mission for a second year."
As of the article publishing date, Hatzalah-thon has already raised over $6.1M of it's $15M goal! The live event kicks off Thursday at 8PM! Ready to do your part? Donate to Hatzalah-thon now!