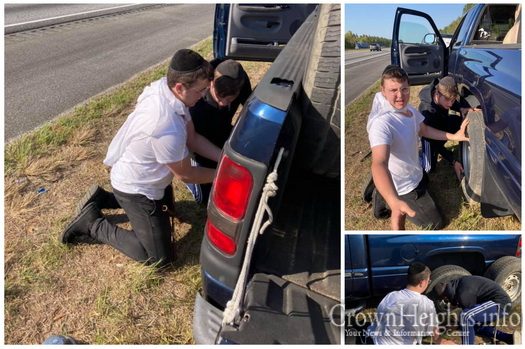 by CrownHeights.info
It's a story that stands out for why even a simple good deed can make great waves.
Renee Dion Kauffman had taken a trip with her family from their home in South Carolina to Florida to visit relatives. The timing could not be more perfectly aligned with the end of Pesach, and the massive migration of Jews heading back north after the eight day holiday.
During their return trip Monday through Georgia, struggling with an extra load in the back of their pickup truck, they suddenly found their vehicle behaving oddly.
"Half way through my trip, I began to struggle with what I thought was a tall load and wind gusts," Renee wrote on Facebook. "Thankfully two young Jewish men waved me over and alerted me to a flat tire."
The two young bochurim, identified by Renee simply as Shimon and Meir, stopped alongside the now stranded vehicle and offered to help.
"I am so grateful for their positive, persistent, gracious attitude," Renee wrote. "They refused money and when I insisted on doing something in return for their kindness, they said "just share on social media that two Jewish boys stopped to help".
The thank you was posted around noon on Tuesday, and quickly went viral.
"I hope some way that this post makes it to them, their parents, their faith community," Renee said. "They are two young, generous, polite and service oriented boys on they're way home to NY and they stopped to help me in my time of need. Things could have gone really bad if they hadn't taken the time to alert me, and then help me. THANK YOU Shimon and Meir. You were my hero's yesterday!"
The good deed spawned more than simply talk, with Renee's daughter writing "Shimon and Meir! I will vow to spread a random act of kindness in y'all's name, thank you for helping my mom! Never underestimate the ripple effect you can have on people."
The Facebook post, with tens of comments and shares, shows how a good deed can sometimes spiral out of control, becoming a massive kiddush hashem for all the world to see.