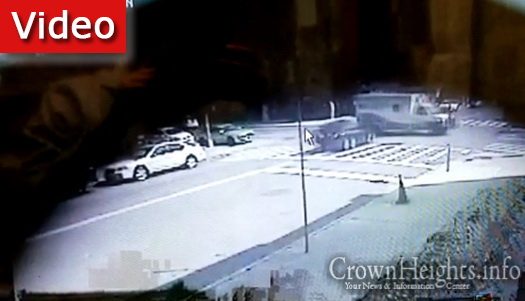 by CrownHeights.info
A new surveillance video of the crash that flipped a Canarsie Hatzalah ambulance on Sunday, the second day of Yom Tov sheds light on the events leading up to the incident.
The video shows as the ambulance approaches the intersection, and cautiously drives with their emergency lights flashing. After the ambulance is already midway into the intersection, a black Nissam Maxima suddenly comes speeding down the street while driving in the wrong lane.
The Maxima does not even hit the brakes before slamming into the ambulances rear wheel, flipping the back of the ambulance around and onto its side. The impact was so hard that the rear wheels of the Maxima left the ground on impact.
According to reports, the driver of the Maxima was possibly only licensed with a learners permit, and police are looking into whether drugs were involved.
The ambulance was transporting a 95-year-old woman who was in cardiac arrest at the time. She was later pronounced dead in a local hospital.