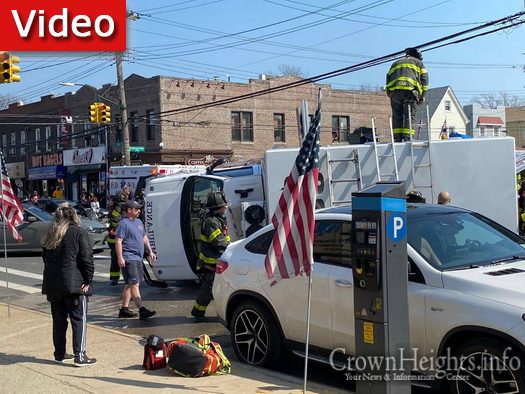 Canarsie Hatzalah Ambulance in Major Crash, Multiple Injuries
by CrownHeights.info
Eight people have been injured, including multiple Hatzalah volunteers after a car t-boned a Canarsie Hatzalah ambulance while it was transporting a critically ill person.
Surveillance footage from the crash shows the ambulance, known as K903, as it enters the intersection by Ave N and Schenectady Ave around 3:00pm Sunday afternoon, the second day of Yom Tov. Another car suddenly drives into the intersection at a high rate of speed, slamming into the rear box of the ambulance and flipping it on it's side.
The patient in the ambulance, reportedly a 95-year-old woman, was already in cardiac arrest at the time, and CPR was being performed. The woman later died, and eight other people were reported injured.
Flatbush Hatzalah responded to the crash, transporting the injured to local hospitals.