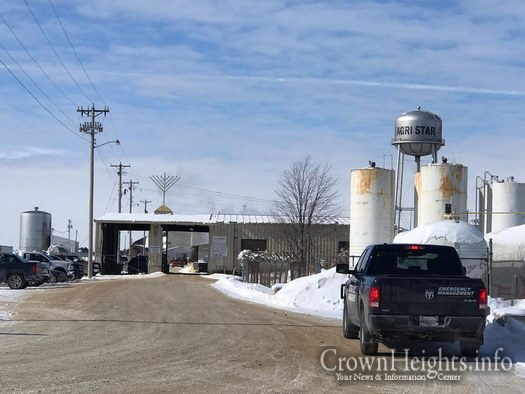 by CrownHeights.info
A forklift accident Monday afternoon caused a massive explosion in the Agri Star meat plant in Postville, Iowa, causing significant damage and injuring two workers.
The incident took place at around 2:45pm in a garage area of the plant that holds propane tanks.
According to local news outlets, the forklift accidentally impacted a propane tank, which exploded with a fireball so large that it ripped the roof off of the garage. The driver of the forklift, along with another worker, were forcefully thrown against a wall, and one of them sustained significant burn injuries.
Thankfully, the fireball exploded upwards, shooting flames into the air and blowing the roof off of the garage and collapsing exterior walls. Due to the trajectory of the fireball, the flames did not catch, and no secondary fire caught.
Emergency services rushed to the scene, treating the two injured workers.
The Agri Star management published the following statement:
Today Agri Star endured an unfortunate event, when a propane gas tank burst causing 2 of our team members to be sent for treatment/observation and we pray for their quick recovery. The incident occurred on the live dock which is adjacent to the processing building. We are delighted to report no other team members inside the facility were hurt. Our management team and nearby team members did a great job evacuating the area until proper clearance was given. Thank you to the Postville Ambulance, Fire Department and local authorities for promptly assisting.
Agri Star