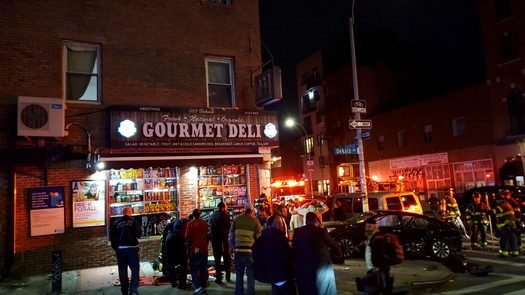 Williamsburg Woman in Critical Condition After Being Ejected From Taxi In A High Speed Collision
by CrownHeights.info
A Jewish Williamsburg woman was in critical condition Sunday night after the taxi she was driving in was struck by a speeding driver, ejecting her from the vehicle.
The shocking incident took place on Bedford Ave and Dekalb Street in Williamsburg at approximately 12:30am. As the taxi the woman was riding in crossed the intersection, a sports car came barreling through, striking the taxi and sending it spinning around.
Horrifying video of the crash shows as the Jewish woman is thrown from the spinning car, landing hard against the curb as the taxi comes to rest against a building.
Hatzalah and other emergency services rushed to the scene, with Hatzalah transporting the critically injured woman to Bellevue Hospital in Manhattan.
The sports car that caused the crash had been posted on social media just hours before doing "doughnuts" on a Brooklyn street and doing other tricks.
Please say Tehillim for Malka bas Chana Rochel