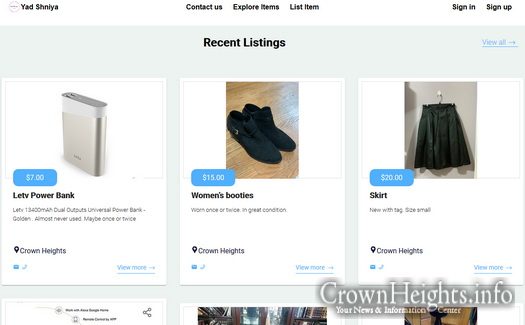 New 'Frum Craigslist Site' Hits the Internet
As a frum community, our needs are different – from Shaitels to Sifrei kodesh and bamboos for Sukkahs. There becomes a real need for a unique platform to circulate these unique second-hand items within the confines of our community.
Another strength of our frum community is that we have a sense of being a family. So for the most part issues of honesty and predators, that linger amply in craigslist or other sites open to the larger society, are for the most part, eliminated.
Various platforms have tried to accommodate this need: Facebook groups, Whatsapp groups and statuses, classifies ads on Jewish news sites, and even Instagram posts.
However, none offer the ease of the option to manage your posted listings as a seller or search by category as a buyer. Meet Frum Secondhand: On this platform, anybody can post their items for free. Sellers also have a simple dashboard where they can manage their listing by editing, removing or marking items as sold. Everything you might need. For those browsing, all items are searchable and can be filtered by category and location making it super easy as a buyer to quickly find what you are looking for.
To protect our community, before listing sellers go through a brief vetting process before the post going public.
So what are you waiting for?! Come join the party at frumsecondhand.com