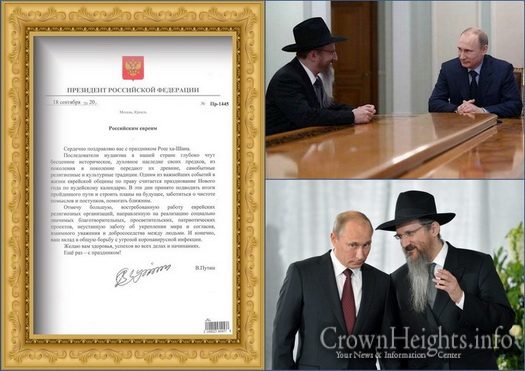 Russian President Sends Rosh Hashana Greetings
This morning, Russian President Vladimir Putin sent his traditional letter of congratulations to Russian Jews ahead of Rosh Hashanah.
The blessing was sent to the office of the Chief Rabbi of Russia, Rabbi Berel Lazar, and from there was sent to hundreds of Jewish communities throughout Russia.
In his remarks, Putin writes:
To the Jews of Russia, I greet you on the occasion of Rosh Hashanah. The religious Jews in our country deeply respect the historical and spiritual heritage of their ancestors, and pass on from generation to generation the age-old religious and cultural tradition. One of the main events in the life of the Jewish community is the celebration of Rosh Hashanah according to the Jewish calendar. These days it is customary to take stock of the past and build plans for the future, to care for the purity of thought and action, to help others. I must mention the important and blessed work of religious Judaism And of course your contribution to the common fight against the Corona virus epidemic, and again – all the best for the holiday. Vladimir Putin.
On the orders of the Chief Rabbi, the prayers at the Marina Roshcha Central Synagogue in central Moscow will be held in capsule form, in order to maintain the health of the many worshipers.
Many minyanim will be held in all the Torah and Chesed institutions around the main synagogue, in addition to the many quorums and special shofar blowing quorums in all the Chabad houses scattered in the many neighborhoods in Moscow.
Chabad shluchim and rabbis of the Jewish communities in Russia who experienced a challenging past six months, invited the worshipers and the Jews of the city to pray and blow the shofar, while guarding and protecting and in a momentum of activity towards the doubling of Jewish activity throughout Russia.