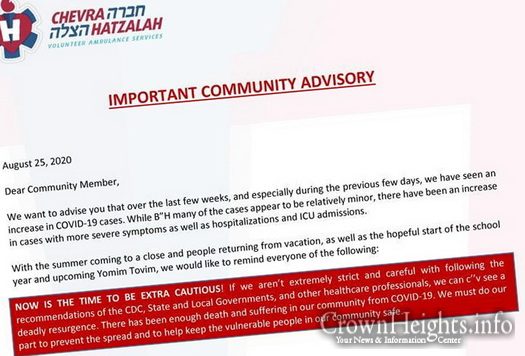 by CrownHeights.info
Central Hatzalah of New York City published a community advisory Tuesday warning the community of an uptick in COVID-19 cases.
"We want to advise you that over the last few weeks, and especially over the past few days, we have seen an increase in COVID-19 cases," they wrote.
The advisory, published in the hopes of galvanizing the community to continue taking protective measures, also noted that some of these cases had been severe, and led to ICU hospitalizations.
After the first wave of the virus had finally waned, the question of personal and herd immunity left hope that the COVID-19 pandemic had finished. Multiple cases of reinfection, along with the recent hospitalizations, have dashed those hopes.
Yet all is not doom and gloom, as a multitude of recent cases have given rise to the belief that most of the recent infections are significantly milder, and are likely not as deadly.