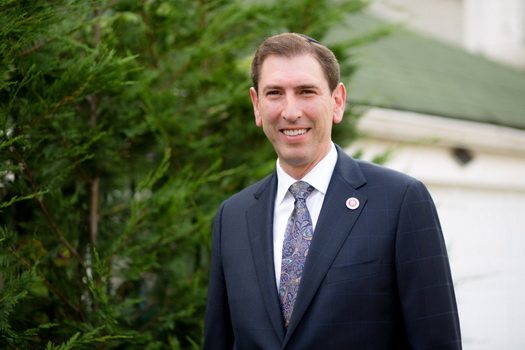 This Tuesday, June 23rd is a primary election which should be important for Torah observant Jews as we could finally get an observant Jew in the US Congress.
Chaim Deutsch is running for New York's 9th Congressional District, which covers Crown Heights, East Flatbush, Flatbush, Kensington, Park Slope, Prospect Heights, Midwood, Sheepshead Bay, Marine Park, Gerritsen Beach and Prospect Lefferts Gardens, Prospect Park, Grand Army Plaza and the Grand Army Plaza Greenmarket.
This election is a very big deal, especially when we have two Muslim Anti-Israel, Anti-Semitic congresswoman who continue to push their agenda on the United States Congress and barely receive any punishment for their hatred of the Jewish people.
If elected, Chaim Deutsch would be the first frum from birth Congressman in modern American history. Although it's true that many Jews have been elected to Congress, they don't represent or vote for bills that are in the best interest of the Jewish people.
Most of these Jews elected to federal office care more about their party's politics over their own religion.
For example, Senator Dianne Feinstein of California had the audacity to urge President Trump to restore aid to the Palestinian authority that his administration cut. This international aid that is funded to the PA is often handed over to terrorist organizations such as Hamas. Why a Jewish Senator would support this is beyond me.
A frum Jewish congressman would be a great role model for the rest of the community and could perhaps encourage non-observant Jewish officeholders to think more about their actions.
Antisemitism is on the rise and we've had an assault on one of our own almost every week this year in Brooklyn.
It's time we elect a Congressman with good middos who will fight back for the best interests of the Jewish Community.
The primary election this Tuesday is only open for Democrats. You must be a registered Democrat in order to vote for Chaim Deutsch. If elected, Chaim would probably be the most conservative Democrat in the US Congress as well.
There are THREE ways to vote this June!
1. VOTE BY MAIL
You can apply for an absentee ballot until June 16th at www.nycabsentee.com
2. VOTE EARLY
Early voting poll sites will be open June 13 – June 21. This is not usually your regular poll site – visit https://nyc.pollsitelocator.com/search to find yours.
3. VOTE ON ELECTION DAY
Regular poll sites will be open on Election Day, June 23, from 6am to 9pm. Find yours here: https://nyc.pollsitelocator.com/search