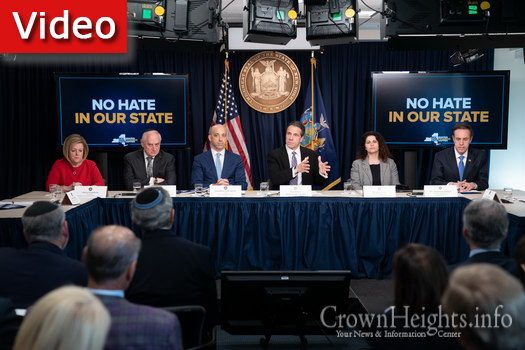 by CrownHeights.info
At a press briefing today, Governor Andrew Cuomo fielded a question regarding the onslaught of mental health issues facing the State of New York as it heads deeper into the COCID-19 lockdown. The question was asked regarding the possibility of opening synagogues in upstate New York for the Shavuos holiday.
The governor explained how there is the possibility of opening shuls, with stringent guidelines, for those synagogues within the parameters of 14-15 people.
"We will have guidance on Monday or by Tuesday", Cuomo added referencing the possible allowance of religious congregation for Shavuos and Memorial Day.
Jewish media outlets immediately began posting the governor's statements, without the necessary context.
As of now, all synagogues and places of worship remained closed by executive order into the month of June.
Remarks begin at 30:30 mark