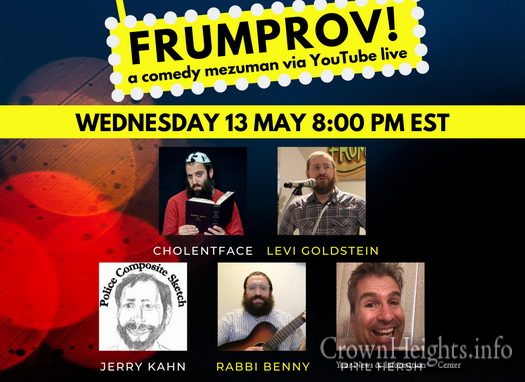 The perfect time to strike is when the competition is weakened.
As the Frum world's A List celebrities try to catch a breath after gathering together to raise 15 million dollars for Hatzalah, Frumprov performers are rushing to fill the vacuum of entertainment space in this short window of opportunity.
As they do every Wednesday evening at 8:00 pm EST, a group of comics, impressionists, and those who want to try stand-up comedy, will be performing kosher comedy live on Frumprov's YouTube channel.
SIDEBAR: If anyone would like to try stand up comedy, please reach out to Frumprov on social media, as the platform was created to give you the opportunity to explore your comedic talents.
To watch and participate, simply follow Frumprov on Facebook https://www.facebook.com/FrumProvComedy and you will be notified when they go live.
Performing this week are Rabbi Benny, Cholentface, Levi Goldstein, Phil Hersh, and Jerry Kahn.
Frumprov was formed in 2018 as a platform where Frum comics can test out new material in a kosher atmosphere, people who want to explore their comedic talents can express themselves, and quality kosher entertainment can be provided for Frum communities. They have already held over 10 events in Montreal, Crown Heights, and Manhattan. You can follow them on social media and watch previous performances on their YouTube page.
Rabbi Benny is a Chabad Shliach in Cabo, Mexico. He is creator of the Rabbi Benny show, and a talented musician. This will be his standup comedy debut.
Cholentface is a comedian based out of Montreal. He is the founder of Frumprov and has performed across Canada and the United States.
Levi Goldstein is a comedian and impressionist living in Montreal. He has performed in Canada and the United States, and has been called "the Jewish Will Ferrell."
Phil Hersh is an actor and impressionist based out of Florida and California. He has worked in Hollywood for over 30 years, voicing characters in cartoons and acting in commercials and feature films, including Freedom's Gate.
Jerry Kahn is an experienced comedian and founder of the Big Mockers Comedy Troupe. He has been ranked as the funniest Jewish comedian by MSN, has been featured on TV, and performed across Israel and the United States.