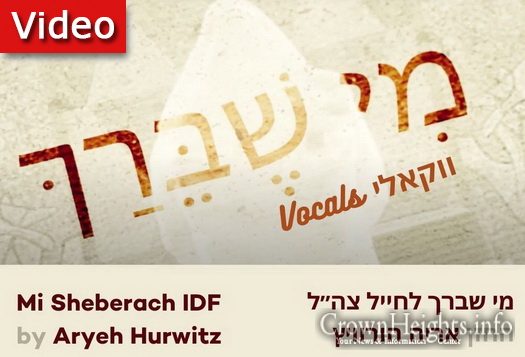 As the world remembers the soldiers who lost their lives fighting on the front lines for Eretz Yisroel, we daven for the soldiers that are fighting each and every day, serving and protecting our nation. 'Mi Sheberach for the IDF' is performed by Aryeh Hurwitz and the Rinat Israel Choir conducted and arranged by Ofir Sobol.
This heartfelt vocals-only rendition perfectly delivers the feeling of our nation towards our beloved soldiers, as we beseech hashem to protect and save our soldiers from harm's way.
This is the first song to be released of Aryeh Hurwitz's upcoming debut album, coming out this Fall. The album consists of cantorial and popular jewish songs, with full orchestral and choral arrangements produced by Ofir Sobol, the son and successor of the late Mordechai Sobol OMB who has conducted and arranged many of the albums songs.
Mi Sheberach (Tzahal)
Performance by Aryeh Hurwitz
Music: D. Zeltzer
Accompanied by: The Rinat Israel Choir
Produced, Arranged & Conducted by: Ofir Sobol
Recorded & Mixed at: Zohar Zaltz with Eshel Studios T.A. Israel
Video Production: Shmuly Levitin