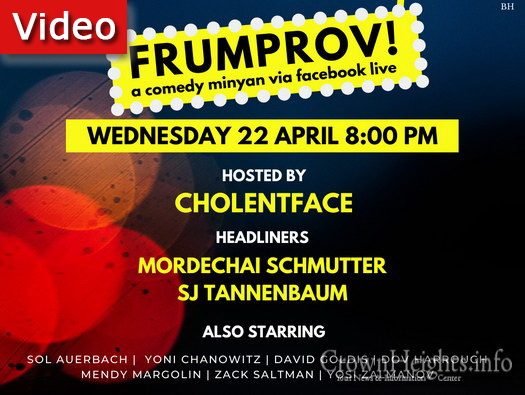 For the fifth week in a row, ten Frum comedians will be performing stand up comedy live on YouTube, providing much needed entertainment after a long day of figuring out how to get all our kids set up on Zoom at the same time (PRODUCTIVITY TIP: Put them in different rooms and conduct your business in a Sukkah on your balcony).
Hosted by Cholentface, featuring two strong headliners in Mordechai Schmutter and SJ Tannenbaum, the live show allows viewers to relax with a beer while wearing pajamas in the comfort of their own home, and to interact with the comics.
Showtime begins at 8:00 pm est and is expected to last two hours. The link to the YouTube Live will be posted on Frumprov's Facebook page https://www.facebook.com/FrumProvComedy/ shortly after 8:00.
About the comedians:
Cholentface is an established Lubavitch comic from Montreal and the founder of Frumprov. He has performed in Canada, the United States, and Mexico.
Sample:

Mordechai Schmutter is a humorist and author of 7 Frum comedy books. He is also a renowned actor and speaker and writes a popular weekly column in Hamodia magazine.
Sample:

SJ Tannenbaum is an experienced comedian, rapper, and impressionist from New Jersey. He has performed across the United States and made the finals of the 2019 Funniest Jewish Comedian Contest at Broadway Comedy.
Sample:

Sol Auerbach is a comedian and rapper based out of New York City. He has participated in the Funniest Jewish Comedians Challenge and is a recognized name at NYC open mics.
Sample:

Yoni Chanowitz is a comic from Crown Heights. He has performed at numerous Frumprovs and in his spare time creates miniatures out of wax.
Sample:

David Goldis lives in the Miami area. This will mark his stand up comedy debut.
Dov Harrouch is an entertainer and Rabbi living in Montreal. He has performed in Canada, the United States, Morocco, and Israel.
Sample:

Mendy Margolin lives in Crown Heights and has previously performed with Frumprov.
Sample:

Zack Saltman is a stand up comic and entertainer from Lakewood, New Jersey who has performed at numerous events. He recently opened for MODI. Sample: https://youtu.be/xlBqaHgRmw0
Yosi Zalmanov lives in New York City. This will mark his stand up debut.