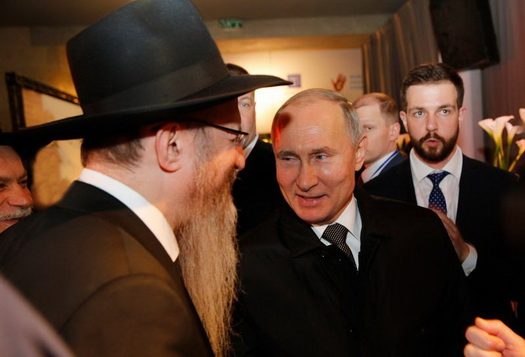 Russia's Jews have expressed great satisfaction from President Vladimir Putin's visit to Israel. This came as part of the events marking seventy five years since the liberation of Auschwitz by the Russian army and the end of World War II.
Additionally, Mr. Putin participated in the inauguration of a new monument in Jerusalem's Sacher Garden, commemorating the siege on Leningrad. The President arrived together with Russia's Chief Rabbi, Berel Lazar, as part of a government delegation that came to partake in the special chain of events.
Speaking at the main event in Yad Vashem, Mr. Putin told dozens of presidents and world leaders: "Today we remember all the victims of the Nazis, including six million Jews who perished in the Nazi death camps, forty percent of which were Russian citizens. Therefore, the holocaust was, and remains, our deepest wound. It is a tragedy that we will forever remember. The Nazi crimes, their calculated approach to the "final solution of the Jewish problem", as they called it – is in fact one of the worst pages in the history of humanity. We must remember that there were collaborators in these horrific acts whose cruelty exceeded the Nazi's cruelty."
The President updated the Chief Rabbi about his meeting at PM Netanyahu's home with Mrs. Yaffa Issachar, and what he told her about her daughter Naama who is imprisoned in Moscow. At the meeting Yaffa told Mr. Putin "During the past ten months that I have spent with the Jewish community of Moscow, I have come to understand how much the Jewish community respects you, and that there is no anti-semitism only thanks to your efforts."
These words come in light of the quiet assistance that the Chief Rabbi of Russia has provided for her, along with the great help and support that Moscow's Jewish community has given the family from the moment of the arrest, as they do for any prisoner in need of help.
At the events' conclusion, Mr. Putin told Rabbi Lazar that he was personally touched by the memorials. He also said that he is happy to hear about the conference that will take place next week in Moscow under the Federation of Jewish Communities in Russia. The conference will unite representatives from over two hundred Jewish communities throughout Russia, who provide all religious services to hundreds of thousands of Jews in Russia.
The President pointed out to him that currently there is no anti-semitism in Russia. While the situation in Europe and the United states is increasing alarmingly, in Russia, the atmosphere is improving with the joint efforts of the government and the Jewish community , causing the Jewish people to be respected by all for living in peace with all religions in the country.
Photos: Mevaser Tov – Moscow