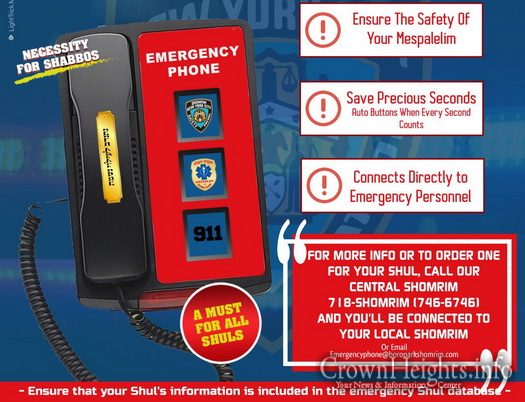 In light of the recent disturbing uptick in targeted hate crimes, the Shomrim organizations and Rockland Chaverim have announced the launch of an emergency phone for shuls.
This phone is especially vital for Shabbos and Yom Tov when people don't carry their phones, making calling for help difficult if not impossible.
With just the press of a button, the phone will immediately connect you to Hatzolah, your local Shomrim or 911.
Each will be displayed as a easily discernible button making it easy to recognize and press, thus saving precious seconds when they count most.
To find out more info, or to order one for your Shul, call the emergency phone line at 718-SHOMRIM (718-746-6746) or email emergencyphone@boroparkshomrim.com.