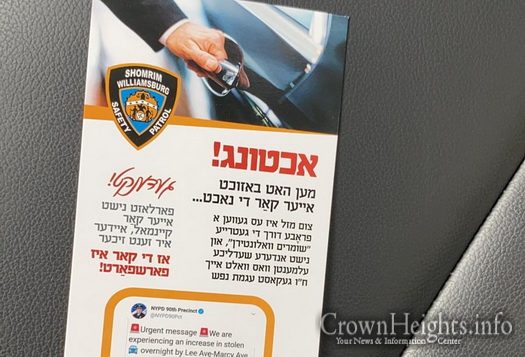 67 Vehicles Found Unlocked By Williamsburg Shomrim In an Attempt to Raise Awareness
by CrownHeights.info
Williamsburg Shomrim made an awareness campaign Wednesday night as they attempted to educate the community about vehicle break in prevention. A whopping 67 vehicles were found to be unlocked on just seven streets in Williamsburg.
The Shomrim volunteers, who handle near daily reports of vehicles broken into overnight, canvassed just seven streets checking if the vehicles parked there were secured. As they came across each unlocked vehicle, they locked them and left an awareness card on the windshield. On just seven streets, 67 vehicles were left with cards, an absolutely ridiculous number.
A majority of vehicle break ins occurring have one of two common denominators. Either their doors were left unlocked, or expensive devices and merchandise were left in plain sight.
The Crown Heights area is no better, with daily reports of break ins becoming so commonplace many are not even being reported. Still, despite the numerous advisories and articles publicizing the persistent issue, residents continue to leave valuables in their vehicles and doors unlocked.
CrownHeights.info would like to remind all residents to make sure your vehicles are secured, and all valuables removed before leaving your vehicle.