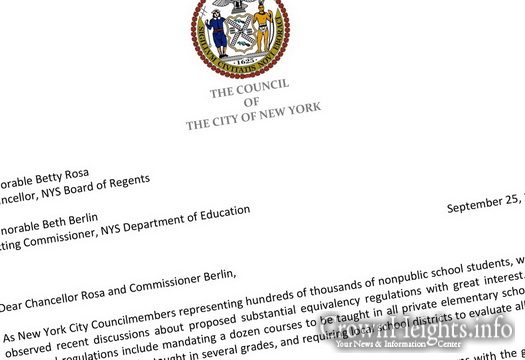 In a letter to Chancellor Betty Rosa and Acting State Education Commissioner Beth Berlin, a majority of the New York City Council announced their opposition to the State Education Department's proposed regulations of nonpublic schools and urged that they be withdrawn.
In their letter, the 30 members of the New York City Council wrote that:
"We continue to believe that it is integral that the State respects parents' legal right to choose their children's schools," the letter read. "New York City nonpublic schools have had immeasurable successes in educating their students and preparing them for life. Nonpublic school graduates have been accepted into and attended Ivy League schools for college and post-graduate educations, they've gone on to create multi-billion dollar businesses, and even hold high-profile elected and appointed positions in local and United States governmental bodies. These accomplishments speak volumes about the educational standard in nonpublic schools here in New York City."
The New York State School Boards Association, which speaks on behalf of more than 700 school districts statewide, and who would be responsible for implementing and enforcing the proposed regulations, also expressed their opposition stating that the proposal goes well beyond historic and accepted norms. "We cannot support the proposed regulations in their current form," their statement said, and we see "no legal basis for their adoption."
The New York City Councilmembers' letter comes on the heels of more than 140,000 parents, alumni, educators and supporters of nonpublic schools who also submitted letters to the NYS Department of Education to protest the proposal.
The regulations have generated an overwhelming and unprecedented volume of response from an extraordinarily diverse coalition including the New York State Association of Independent Schools, the Council for American Private Education, and representatives of Catholic, Jewish and Muslim school communities in opposition to SED's proposal.